Hooking Halos
Contrast Makes the Rug
By:
Rebecca Erb, Photography by Impact Xpozures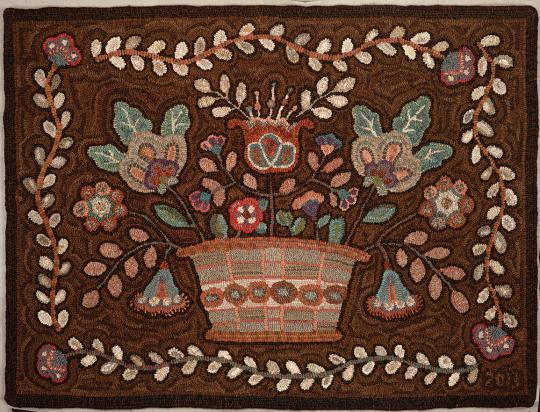 Hooking Halos
Button Basket, 43" x 32", #8- and 8.5-cut wool on linen. Designed by Susan Quicksall and hooked by Rebecca Erb, Sinking Spring, Pennsylvania, 2013.

The more I hook rugs, the more I realize there is always something new to learn. Nowhere is this more true than in my background work! Knowing I could benefit from a teacher's expertise, I took this pattern, Button Basket, to a three-day workshop.

I packed up wools in my color palette and thought about what colors I would use for a background. I decided on a soft brown background. I like to mix background wools, so I chose a milk chocolate plaid as the main color and slightly lighter and darker browns to give the rug more movement. I had a plan.

I always hook two or three lines of background around the motifs so I can get a better idea of how the pattern is coming together. Everything went well at camp and I soon returned home, happily using some of my favorite colors.

But months after I came home from rug camp, I hit a road block. I laid the rug on the floor and studied it daily. I knew something was wrong—the rug was just not pleasing me—but I just couldn't figure it out. I was happy with the soft colors of the motifs and the colors I chose for the background. So why wasn't it working?  

This article is from the March/April/May 2015 issue. For more information on our issues, check out our issues page.
YOUR RECENTLY VIEWED ARTICLES
Free tutorials, expert tips, exclusive partner offers, and more straight to your inbox!