North American Orientals: Part Three
Color Planning, Modern and Traditional Color Plans, and Motifs
By:
Sandra Brown; Teachers who helped with this article: Joyce Krueger and Jayne Nevins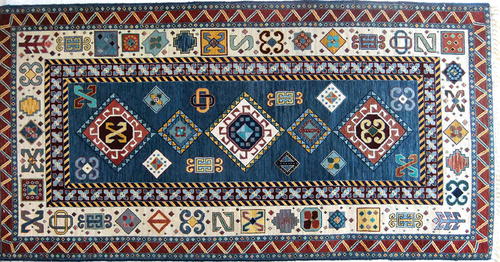 Desert Wanderer, 86" x 43", #3-cut hand-dyed wool on rug warp. Designed by Jane McGown Flynn and Pearl McGown, hooked by Joyce Krueger, Waukesha, Wisconsin, 1997. Pattern available at Honey Bee Hive. Guard borders with uniform color treatment (outside zig-zag, 3 inner borders) appear as one overall motif, which also heightens their role as a framing device to the variety of colors in the interior.

Color planning a rug tops the list of challenges for many rug hookers, and deciding on colors for a North American Oriental can seem even more daunting. This is true, despite the fact that, like geometrics, there is no real object requiring certain colors (such as a zebra in black and white or a daffodil in yellow). There are "traditional" and "modern" approaches to color planning Orientals, but even in traditional color plans you are free to pick whatever colors appeal to you in the motifs, so long as the background fields adhere to the primaries of red, blue, and gold. The choice of exact hue between the three traditional colors is still enormous.

Finding perfect colors is more often an issue of color choice than color sense—many hookers decide to use up older wools, which locks them into sequential colors that may not be all that appealing. However, if at least the fields (major areas of background) in the Oriental are well-chosen and have strong appeal, then the smaller motifs can be a wider range of hues. All that's required is that they look good next to each other and against their background field.
YOUR RECENTLY VIEWED ARTICLES
Free tutorials, expert tips, exclusive partner offers, and more straight to your inbox!