Confetti Dyeing
Ask the Experts: Add some pizzazz to your dyed wool!
Updated June 09, 2020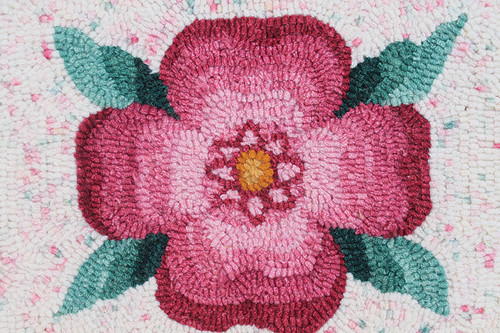 Confetti wool hooked

Do you find dyeing wool to be intimidating? Or maybe you simply don't want to bother with the mess or expense of additive dyes. Or perhaps you are looking for some new and easy ways to expand the use of your existing wools by transforming them into more exciting options.

You can very easily create some interesting effects, without having to use any extra dyes, by using leftover wool strips or scraps (and who doesn't have lots of those on hand?). You can even use the snippet ends trimmed off from wool strips while hooking.

This is basically a variant of the marbling technique of layering alternating light and dark pieces of wool, rolling them together, twisting and tying them up, and then placing them in boiling water. The colors of the wools will bleed into each other and create a new effect: a color distribution across the wools.
The equipment and supplies you need are minimal and easy to find. Gather up your supplies:

• a large cooking pot, like a stainless steel or enamel stockpot, that you can dedicate to dyeing wool. This can be an old pot you have on hand that you've been meaning to retire from cooking, or buy a used pot at a garage sale or thrift shop.
•  a set of tongs (also dedicated to wool dyeing) to add and remove the wool to and from boiling water
•  Jet Dry® dishwasher rinse (this acts as a wetting agent that helps the wool absorb color)
•  white vinegar (to set the color in the wool)
•  string to tie up the wool
•  wool 

You will want a lighter color of wool as your base piece of wool: this is the wool that you will be transforming in color. You will need darker colors of snippets or strips, as they will impart the most noticeable color into your base piece of wool. The size of your base piece of wool is up to you, depending on your usage needs. Use 100% wool for the best outcome, as blends of less than 100% will not always release or accept color.

You can put more than one roll up of wool in the same pot if they are in the same color family and if your pot is large enough to completely cover all the wool with water.

Let's look at a few different ways to use leftover wool snippets and strips to achieve some striking, variegated results. These will all add interest and movement to your hooking projects. 
CONFETTI WOOL
For this method, we took some snippet ends of green and pink and sprinkled them more or less evenly across a dry piece of natural-colored wool. Then we rolled up the wool, twisted it, and tied it tightly together with string. Roll, twist, and tie as tightly as possible to increase the transfer of colors. It helps to hold the snippets or strips in the pattern that you've chosen, and it keeps the wool bits from slipping out as it cooks. We then dropped the roll into our pot of boiling water, with enough water to completely cover the wool, and to which we had already added a few squirts of Jet Dry®. The wool was simmered for about 20–30 minutes; after which we added a glug or two (You can see that precision is not necessary for this process! A glug translates to about ¼ cup.) of white vinegar, then simmered for another 10 minutes. We removed the wool from the pot with tongs, rinsed it under cold water until cool enough to handle, wrung out the excess water, untied, unrolled, removed the snippets, and dried the piece of wool. You can dry it in the clothes dryer or hang it to dry. You can see the speckled or confetti look from the colored wool snippets which bled onto the base wool. Our resulting wool was hooked as a background around a flower, from which the snippet colors were taken.
Confetti wool, dyed, before hooking

Party streamer before dyeing

Party streamer after dyeing
STRIPED WOOL
Here we took a piece of dry light pink wool that already was slightly marbled in hues of pink. (Remember, your base wool does not have to be a solid; it just needs to be lighter in color than your strips.) We laid out strips of red wool in roughly even spacing. Then we rolled it up, twisted, tied, and dropped it into the dye pot of boiling water. (Follow the same set of instructions from the confetti approach above.) We chose colors from the same family, and although subtle, you will see an extra level of darker color to what already existed in the original piece of wool. The picture of the hooked wool was hooked with strips cut with the stripe; you would get a different effect if you hooked with strips torn perpendicular to the stripe. 
Pink stripe before dyeing
WINDOWPANE WOOL
Here we started with a soft yellow piece of wool, laid out blue and green strips of wool in a windowpane design on top of the yellow wool, and followed the same steps already described. We loved the way this turned out. In addition to the the stripes from the strips of wool, some of the color bled into the yellow around the stripes, creating a really interesting result. In this example, we laid out the strips of wool in right angles to the wool, and the hooked example is hooked along the blue stripe so there is more predominance of blue in the hooked outcome. If hooked along the green stripe, more green would have been visible in the hooked version. If the strips of wool had been place diagonally on the base wool, we would have seen another colorful result.
PARTY STREAMER WOOL
In the last example, we started with a plain piece of natural-colored wool and scattered many colors of strips across the wool. We let the strips cross over one another in a random but controlled fashion, then we followed the same steps for dye pot processing. We think it looks like party streamers—pretty swirls of color throughout the wool. 
 
We hope we have inspired you to try this very simple way to add some fun effects to your wool without having to use dyes. You can even reuse the strips again, so nothing is wasted. 

We gave some methods that you can follow exactly. However, use your imagination: you can come up with lots of similar ideas using varying colors of light wools as your base and adding stronger-colored snippet ends and/or strips of wool scattered randomly or laid out in a pattern of your choosing.  An exact outcome is hard to predict, because you never really know just how much color will transfer across the wools. But you can control the outcome somewhat by choosing snippets or strips, how you arrange them on the wool, and how tightly you roll up and twist the wool prior to dyeing it.

One thing is for sure: the possibilities are nearly endless!
DYEING TO EXPERIMENT?
For even more creative dyeing techniques, check out Gene Shepherd's Prepared to Dye from Rug Hooking magazine. Gene takes some of these techniques even a bit further. With this article and Prepared to Dye, who knows what variation you will come up with?
Marge Anderson has been an accredited McGown teacher in Bethlehem, Pennsylvania, since the 1970s, and initially taught daughter-in-law Jane Anderson in the 1980s. Jane, who lives in Clinton, New Jersey, returned to rug-hooking in 2015 after a long hiatus and is still learning from Marge. Jane is currently secretary of the Hunterdon County Rug Artisan Guild in New Jersey, and both are ATHA members.
YOUR RECENTLY VIEWED ARTICLES
Free tutorials, expert tips, exclusive partner offers, and more straight to your inbox!