The Pretty Plaid Proddy Pull Pillow
Make your fabric work for you
By:
Nola A. Heidbreder/Photography by Impact Xpozures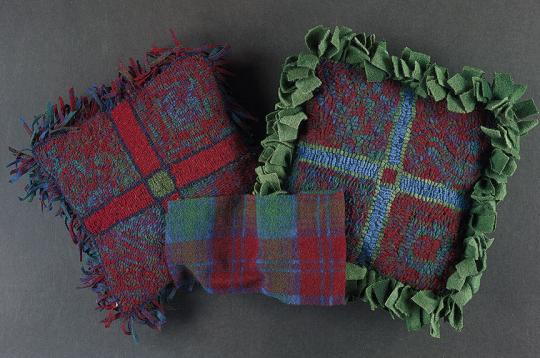 The Pretty Plaid Proddy Pull Pillow
It all starts with wool, doesn't it? You see it and want it.  The color calls to you. The touch of it is  titillating. The price is right. You're here, it's here. Why not go home together? 

Texture is so tempting, but something is holding you back. It's new to you. You have not used this one before. There are no samples of what this wool can do. How will this wool hook up?

Despite the warning voices in your head, you buy it and take the temptress home. You carefully place the wool on your wool shelf. At first you notice it often. It calls to you. You talk to it on a regular basis asking the question, "What will you look like cut up and hooked? Where shall I put you into a rug?" It does not answer your questions. It is silent. Eventually, this wool is moved to the back of the shelf to make room for new friends. 

And so it goes. Sound familiar? Don't worry! We've all been there.

I have a project for you to explore what your wool is capable of and how to best use it . . .

This article is from the January/February 2015 issue. For more information on our issues, check out our issues page.
YOUR RECENTLY VIEWED ARTICLES
Free tutorials, expert tips, exclusive partner offers, and more straight to your inbox!