Recipe for a Successful Rug
The ingredients? A cup of this, a dash of that...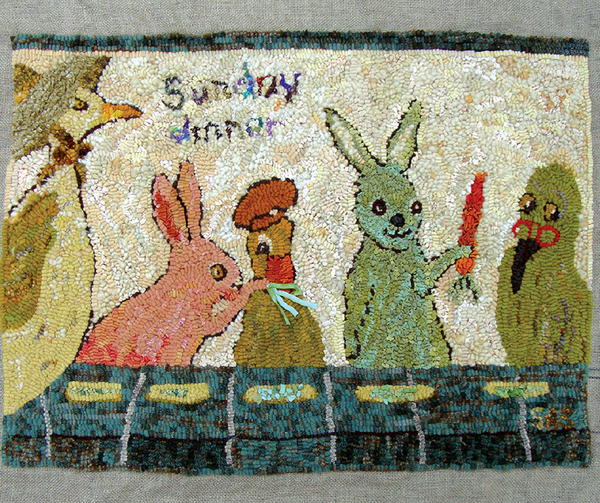 Sunday Dinner, 30" x 22", wool, yarn, velvet, sari silk, and rayon binding on linen. Designed and hooked by Sharon A. Smith, Walnut Creek, California, 2017.

We love our abundant stashes of wool. Some of us collect used wool clothing to recycle. Others can't get enough off-the-bolt wool, relishing beautiful quality and patterns of rich as-is wool. Still others can't get enough hand-dyed, dappled, mottled, or multicolored wool. Many have a weakness for dip-dyed wool for their perfectly hooked #3-cut rugs.

Now we are learning, as Canadians have known for a long time, that many other fibers can enhance a rug. Perhaps you've already been collecting other materials suggested by teachers and friends—lovely fibers like velvet and sari ribbon.

So now how do you begin to prepare for a brand-new project, using some of these newly acquired treasures? Do you use materials simply out of habit? Do you use fibers from your stash without considering other options? Or do you challenge yourself to try new materials or fibers to experiment?

I keep pushing myself to try new things—in art style, technique, and in fibers. I have a large collection of various fibers, so I'm now learning to make more careful choices before I push that hook into my fresh linen.

First, I think about this: what is this rug meant to be? Am I creating an heirloom? Is it a gift? Does it have a message? Or will this be a bathroom-floor-cozy-toes kind of mat? Will it be a wall hanging? Will it be on the floor next to the bed? Sometimes we can't be sure what the answer is until we are pulling the last loop and putting the binding on. But thinking about a piece's intended use helps guide the material choices.

Second, consider the subject matter. A landscape may be a free-for-all or a perfectly looped rug. A realistic pattern may call for 100% wool fabric. A portrait may be a combination of pure wool fabric or a mix of other fibers with wool.

Third, think about artistic style. Primitive? Realistic? Contemporary? Impressionistic? Geometric? Abstract? The point is, if there is a specific "look" you are intending, think carefully about what elements will contribute to that look.

I'm going to illustrate my approach by explaining how I hook contemporary rugs.
YOUR RECENTLY VIEWED ARTICLES
Free tutorials, expert tips, exclusive partner offers, and more straight to your inbox!