Timely Tips for Beginners
Ask the Experts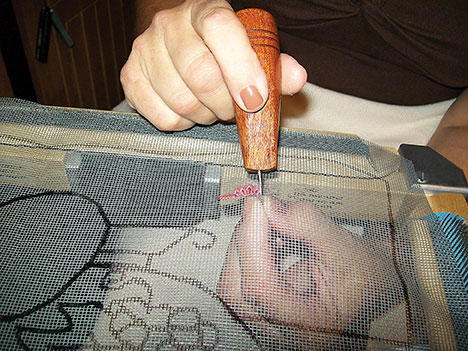 Illustration #1

Question to the Expert:
I am self-taught, and I have been hooking for about three months. Why do I keep twisting wool on the back side? Also, my hooking is a bit uneven, and I sometimes pull out loops. There are no teachers in my area, and I want to break my bad habits before they are too ingrained. Help! 
 
Answer:
Don't fret! Common beginner rug hooking errors can be corrected quite easily. Here are some answers to your questions.
 
Common Errors
1.  Wool twisting on the back side is the result of not holding your thumb and index fingernails against the backing. When space is left between your fingernails and the backing, the wool may twist or have a half turn when it is initially grasped; hence, a twist appears on the back side when the loop is pulled through the backing. Keeping fingers stationary on the back side of the backing straightens any twists in the wool as you pull it through your fingers.

This article is from the March/April/May 2013 issue. For more information on our issues, check out our issues page.
YOUR RECENTLY VIEWED ARTICLES
Free tutorials, expert tips, exclusive partner offers, and more straight to your inbox!