Punch Needle Artist: Sallie Dale from The Urban Acres
By:
Editors of Rug Hooking Magazine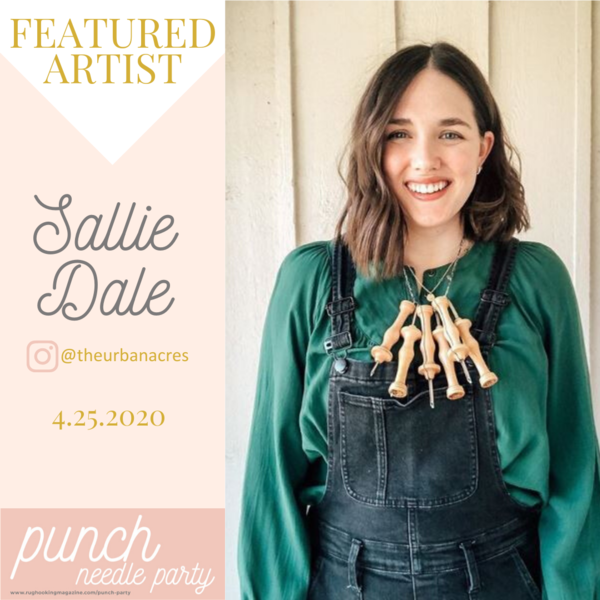 Welcome to Rug Hooking magazine's featured arists series! In honor of international punch needle day, we celebrated by asking some talented punch needle artists to share their experiences with this delightful fiber art punch needle rug hooking. Check out our exclusive interview with Sallie Dale from The Urban Acres.

About Sallie from The Urban Acres

I'm Sallie, a fiber artist + maker living in Tulsa, Oklahoma with my husband Andrew and our daughter Dottie June. I've been creatively crafting for as long as I can remember -- in fact, I think I may have been born with a hot glue gun in my hands...kidding! At age 12 my mom taught me to knit and I've been hooked to fiber arts ever since.

This shop is a great way for me to share my passion with everyone interested in learning a new skill! So grab a kit or a pattern, sit in a comfy chair and let's get making!


Important Links
Visit The Urban Acres Store
Follow them on Instagram
Q&A: Meet Sallie from THe Urban Acres
Q: What do you like most about punch needle?
A: I love how accessible the craft of punch needle is. Pretty much anyone can do it! I tell people that if they can hold a pencil, they can do this craft. It's not as intimidating as say knitting or crocheting or something which requires a bit more skill, but you still get to use fiber which I love! 
Q: How long have you been practicing punch needle?
A: I actually did a small punch needle piece when I was a kid. My mom is an avid cross stitcher so she bought something for me to do. I enjoyed it, but it didn't become a regular pastime until a few years ago. I saw someone on Instagram who had punched a pillow with yarn — I had no clue you could use yarn since I had only worked with embroidery floss. I instantly knew it was something I would love to do and I've been hooked ever since. 
Q: What are your favorite motifs to punch and what inspires you most?
A: I find myself punching mostly florals or things I see in nature. I am very drawn to floral drawings and fabrics. I get a lot of inspiration from various watercolor artists and try to translate what I see into a fiber punch piece. I have a huge Pinterest board of needle punch inspiration — I try to save and document whatever inspires me at the moment. 
Q: How do you combat creative blocks?
A: Lucky for me I have many different creative hobbies I'm interested in, so if one seems to dry up I move to the other. I tend to stick with fiber arts either knitting, or spinning my own yarn. I have a seemingly endless list of projects I want to tackle and not enough time to do them all! That helps keep my creative juices flowing. 
Q: What are two pieces of advice you would give to new punch needle artists?
A: Try lots of needles and lots of different fibers until you find what you like working with, and also don't be afraid to mess up! Punch needle is so forgiving. You can always rip that yarn out and try again. I think it's good for people to try punching with yarn and embroidery floss so they can get a feel for which one they enjoy most. 
Punch Needle Rug Hooking Quotes to Save and Share!
YOUR RECENTLY VIEWED ARTICLES
Free tutorials, expert tips, exclusive partner offers, and more straight to your inbox!