Exclusive Pattern: Ladies of the Seasons
Use your stash to hook these lovely ladies
By:
Marie Azzaro, Yankee Peddler Hooked Rugs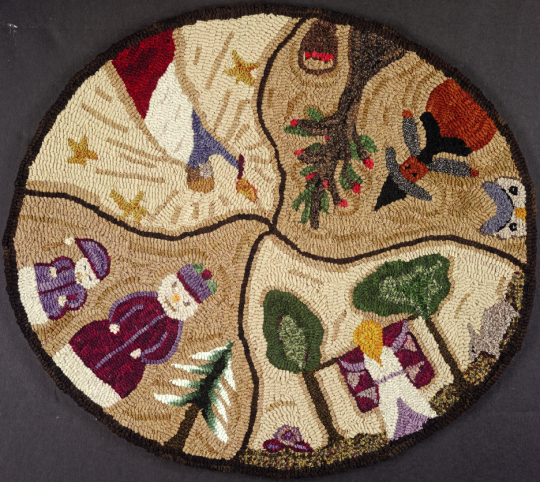 Ladies of the Seasons
Ladies of the Seasons, 20" x 22½", #5-, 6- and 7-cut wool on linen. Designed and hooked by Marie Azzaro, Yankee Peddler Hooked Rugs, Killingworth, Connecticut, 2014. Photo by Impact Xpozures.


Materials List
BACKING: 30" X 32" linen, or backing of your choice
WOOL: 1 yard oatmeal, 1 yard natural, Selection of wools from your stash for the figures and their clothing, Selection of worms and leftovers for details
FINISHING: Whipping yarn or other supplies to add your favorite finish

For many years I've wanted to create a pattern featuring the four seasons. Recently, I decided that it was time to stop thinking about it and finally do it. I thought of the many roles we women play in everyday living and decided to design a piece based on four of our roles, one lady to represent each of the four seasons.

Spring is a time to think of new possibilities. My Spring Lady is airing her quilt between two conveniently placed trees. Maybe it is a hooked bed rug! We'll let you decide which it might be.

My Summer Gal is Lady Liberty, all decked out in our flag colors. We all know her well and what she represents. A lady of hope, freedom, and the promise of a meaningful future.

My Fall Lady is a Pumpkin Witch and she is a good old gal. Anyone who wears a fitted jacket with textured sleeves while picking fall apples has good things in mind. She works her special magic on the fall bounty that celebrates the harvest. That owl looks like a friend of hers.

My Winter Lady loves snow, but she is concerned about the warmth and coziness of her loved ones. That can be a serious business, and she has the stern look of a concerned mother. Her pillbox hat from a past era gives her a matronly look. Her little snow girl companion is dressed up like Mom, and they are off on a shopping trip for the holiday season.

As you know, these are just some of the roles that all Ladies of the Seasons fulfill, whoever we may be. It is a great joy to share my vision of the year with you in this rug hooking piece.

The backgrounds for the pumpkin witch and the snow gal were done very simply. I took a yard of a beige oatmeal material and dyed it in Cushing Golden Brown. I dyed ½ yard with ¼ teaspoon of Golden Brown and ½ yard with ½ teaspoon of Golden Brown. These amounts will vary, depending on the color of the oatmeal that you are using. What you are trying to achieve is two different values for the backgrounds. The lighter value is used for the main backgrounds; you will hook streaks of the darker value through it.

Dye the backgrounds for the spring and summer sections using Dorr's Natural or another cream-colored wool. I dyed ½ yard using ½ teaspoon and ½ yard using ¼ teaspoon of Cushing Old Ivory. I used the lighter value of the Pumpkin Witch background for the rays and stars in Lady Liberty. The amounts of dyes you use will vary with the choice of your base wool color. Two dyes, too easy!

Or you can substitute your own favorite background colors. I dyed one background in two values to give options as we progressed along with the hooking. Look at the design and you will note that the backgrounds are the largest amounts of wool you need.

Each of the ladies needs only small amounts of wool. The red in Lady Liberty is the only red of that value in the whole rug. The rust on the Pumpkin Witch is the only rust used in the whole rug. I've not provided a wool list because that list would be a mile long if I charted it out for you.

Some colors need only one pass on the cutter. The face, hair, and crown on Lady Liberty are good examples of this. Your stash probably has many small pieces to use in each of these figures. Go through your cut wool or noodles and I'm sure you will find some treasures there too. If you used those colors in other rugs, they must be from your color palette and can be used up in this rug that needs little bits of many colors.


For this rug, I used #4-, 5-, 6- and 7-cut widths. Choose your favorite way to finish the rug; rug binding or whipping are both good methods.
My four seasons rug design has finally come to fruition, ending my long-time wish. It is wonderful to have a personal challenge as we creatively explore new hooking designs. I know that your choice of colors will make your lovely ladies come alive.

Marie Azzaro owns Yankee Peddler Hooked Rugs in Killingworth, Connecticut, where she has been selling hand-dyed wool, original rug hooking designs, rug hooking kits, and a complete line of quality traditional rug hooking supplies for 35 years. Visit her website to see more patterns and designs: www.yankeepeddler.com.


This article is from the September/October 2014 issue. To get this exclusive pattern or for more information on our issue, check out our issues page.
YOUR RECENTLY VIEWED ARTICLES
Free tutorials, expert tips, exclusive partner offers, and more straight to your inbox!