Updated February 22, 2018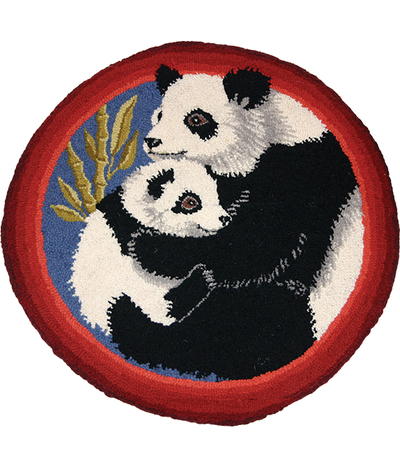 Panda Pals, a Joan Moshimer pattern, is a great pattern to hook as a chair seat or for a new baby or toddler who loves the zoo. The pattern is a classic and great for animal lovers of all ages.

Panda Pals is a great way to start to learn about shading animal fur. It is a small, approachable project that allows you to test out the shading techniques on a small scale. Many people shy away from hooking realistic animals because it is difficult to capture facial expressions and reproduce the look of fur or hair. Although it might look complicated, Panda Pals is relatively simple: by keeping the palette to three colors, you can focus on the techniques and will learn how to hook animals with a wonderful expression.

Hook the black areas of the pandas first. Using a double-sided texture for the fur results in more natural movement in the color. Hook the black wool in the direction the fur would grow. As you hook, look at the photo and anticipate where you will want to hook some gray—be sure to leave spaces for that color.

Next hook the gray. By hooking the gray second, that gray appears to be "above the black" and serves to outline the paws and face.

Next hook the white fur.

The bamboo is hooked with a graduated swatch. The shading in the swatch pieces guarantees that the bamboo will have dimension. Hook the dark value of the swatch first; the placement of the darkest value is crucial to making the bamboo look real.

The two tones of blue for the background let the pandas come forward and accent the gray in their faces. How should this be hooked? Simple. Cut both values of blue before you start, put all the strips in a pile, and randomly pull a strip from the pile. Hook it in, then randomly pull another strip and hook that in. The wool does the work for you.

To order the pattern or the kit for Panda Pals, contact Rug Hooking magazine at 1-877-297-0965 or order online here. The cost for the pattern on linen is $28 plus shipping and handling. A kit with the pattern on linen, wool for hooking, color picture, and binding tape is $95 plus shipping and handling.
HINTS FOR HOOKING PANDA PALS
Hook the mouth line first in black and then use the gray for highlights. 

The nose of each panda has a small highlight of gray, which is only two to three loops. Do not overdo the highlights as then they will be the focus of the nose.

The eyes of the panda are easy if you hook them in this order:

The black "patch"
The gray line around the eye
The black center of the eye
Fill in with the brown
The highlight, which can be a French knot; a knot of your linen; or a tail, a loop, and a tail
Tags / Related Topics
YOUR RECENTLY VIEWED ARTICLES