Rabbit P.I. (Post-Impressionist, That Is)
A Rug Hooking Exclusive Pattern
By:
Leann Hodgson/Camp Wool Designs
Updated February 15, 2018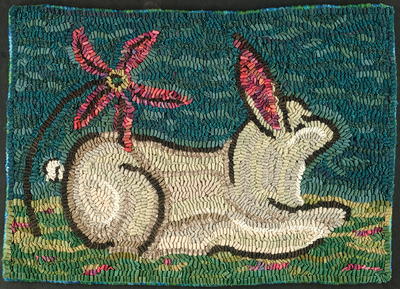 Rabbit PI
Rabbit P.I., 20" x 15", #8- to 8.5-cut wool on linen. Designed and hooked by LeAnn Hodgson/Camp Wool Designs, Kennebunk, Maine, 2013.

As the rug hooking years go by, I find myself seeking out new subjects, color combinations, and different styles of hooking. I am by no means an art aficionado, but I have always favored impressionism. Recently, a friend loaned me a book entitled Charleston: A Bloomsbury House & Garden (Frances Lincoln, 2004) by Quentin Bell and Virginia Nicholson. The book follows a very talented family and a group of artistic friends who lived in, visited, and decorated an English country home from 1910 into the 1950s. The entire house became a foil for their post-impressionist artwork. What I love about the style is the simple line drawings they start with and the gentle paint palette that swirls around the loose lines of the drawing. Thus the inspiration for Rabbit P.I. was born!
Materials List
Sky: 3-4 blue fabrics - 1/8 yd. each (1/3 yd. total)
Rabbit: 3-6 whites to taupes fabric strips - 1/8 yd. each (1/3 yd. total)
Ground: 2-3 green fabric strips - 1/8 yd. each (1/3 yd. total)
Ear: Pink fabric strip - 1/8 yd.
Flower: 1 spot-dyed color fabric strip of your choosing - 1/8 yd.
Lines: Soft gray/black or brown/black fabric - 1/8 yd.
Getting Started
Add a 3" or 4" border (I prefer 4") to the pattern so you have ample room to attach the backing to your frame. My pattern was hooked on bleached linen, but you can use any backing.

Decide if you want your version to be a mat or a pillow (It would make a great pillow!) and choose your colors to match the setting. This pattern will work well in a very contemporary setting, or choose some mellow earthy colors to make it suitable for a country environment. The simplicity of the pattern lends itself to any color plan you might like.

I drew the pattern, staying true to the post-impressionist loose way of painting (i.e., simple non-connected lines). You may, however, choose to draw in more lines such as the outline of the petals on the flower or the full profile of the bunny. Have fun with this and don't be intimidated by it!

Note: Want to teach a granddaughter or daughter (or even a son-in-law!) how to hook? Rabbit P.I. in any style is a great pattern for a first project.
Hooking the Rug
In general the palette for Rabbit P.I. is quite simple. I hand cut the soft gray/black wool for the outlines in a #8 to 8.5 cut. I generally find black in a rug to be harsh looking, but a soft gray or brown-black works just fine. I cut the black a little narrower (approx. #7 cut) for the flower petals.

After hooking the outline, I pulled six different white to taupe wools from project leftovers to hook the rabbit. If you are a beginning hooker and are just starting out and don't have a large stash, don't worry. All you really need are two or three shades of creams for the rabbit. I also used a pretty spot-dyed pink I had purchased from Angela Foote of Fabric Foote Designs for the ear and flower (choose any color here, keeping in mind the rug's final placement), and three or four blues and three or four greens for the sky and ground. For a monochromatic look, consider using multiple shades of brown.

I hooked the sky and lawn in the #8 to 8.5 cut using gentle swales and curves to mimic the brush strokes I saw in the paintings in the book.

I hope you have fun experimenting with color and style while hooking this pattern!

Born with a passion for wool, LeAnn Hodgson stumbled onto rug hooking about 25 years ago in Minnesota and never looked back. Rug hooking in the Midwest at that time was in its infancy and so she learned to shop at thrift stores and by necessity to dye wool. After a career in finance, she turned her passion for rug hooking into a business and opened Camp Wool in Kennebunk, Maine. www.campwool.com.

This article is from the January/February 2014 issue. To get this exclusive pattern or for more information on our issue, check out our issues page.
Tags / Related Topics
YOUR RECENTLY VIEWED ARTICLES