The Shelburne Mermaid/ W. Cushing & Co.
Exclusive Pattern: A classic design updated for 2017!
By:
Article by Lisanne Miller; design by Joan Moshimer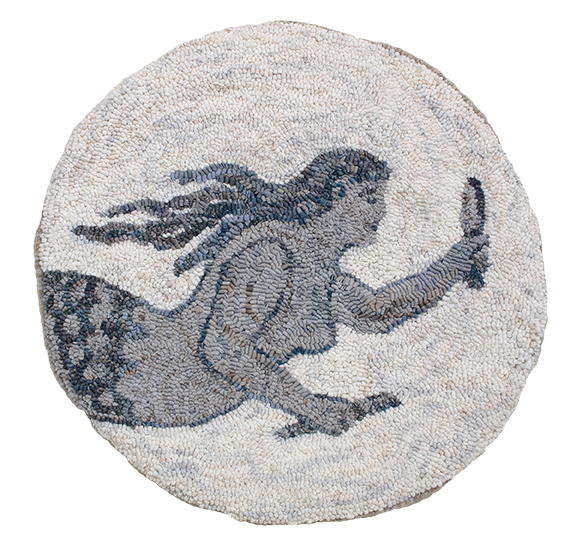 Photography by Lisanne Miller
The Shelburne Mermaid, 15" diameter, #4- and 5-cut wool on unbleached linen. Designed by Joan Moshimer, hooked by Lisanne Miller, 2016.

The Shelburne Mermaid is a fantastic pattern in the W. Cushing line of patterns. The pattern is a Joan Moshimer original design. The simplicity of the pattern leads the rug hooker to endless color planning and embellishing options.

The Shelburne Mermaid was almost lost forever as the pattern had somehow slipped its drawer and ended up crumpled in a corner. Luckily, she was rescued and is now ready to swim into your home.

At 15" round, The Shelburne Mermaid is a pattern that allows you to "taste" or "test" a new color palette, new techniques, and even binding options—all without investing in a huge project. Also, this pattern is the perfect "travel" project for long trips.

Pattern on linen: $25, plus S&H
Kit with pattern drawn on linen: $65 (S&H $11.95 US, S&H $17.95 Canada.) Kit includes pattern on linen, spot-dyed wool for hooking, color picture, and wool binding.

Call 1-877-297-0965 to order or order online at Rug Hooking magazine's shop.

Offer expires March 31, 2017.

This article is from the January/February 2017 issue. To get this exclusive pattern or for more information on our issue,  check out our issues page.
YOUR RECENTLY VIEWED ARTICLES
Free tutorials, expert tips, exclusive partner offers, and more straight to your inbox!