Cec Caswell: Class of 2018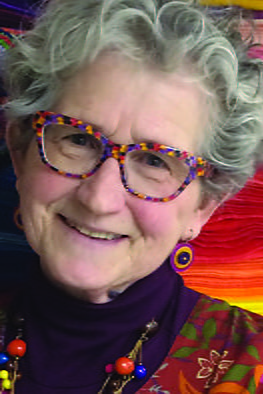 Name: Cec Caswell
 
Location: Sherwood Park, Alberta, Canada
 
Tell us a bit about yourself. What are some of your interests and hobbies?
I have been hooking since 1988. As well as being a McGown-certified instructor (since 2005), I am certified with Prairie Harvest Rug School, Western Canada. Almost everything textile related (e.g. hooking, knitting, sewing) has always been part of my life. Not only do I love creating rugs, wall hangings, or table pieces, I find excitement in teaching. I love helping students design and colour plan their work. I love encouraging them to inject fun, whimsy, and colour into their pieces. To see their work progress from ordinary into extraordinary is most gratifying.
 
How did you get introduced to rug hooking?
For years I was a quilter and seamstress. After watching my mother-in-law hook for many years, I finally picked up a hook and instantly developed a passion for the art of rug hooking. It wasn't long before I began dyeing in order to produce the bright colours that I love.
 
What was your first project?
I designed a small floral rug with a black background. I was advised to not hook with flat black wool. I didn't realize until it was done that a background in static black was boring and did nothing to enhance my piece. Live and learn became my motto.
 
Is there one rug that stands out as being particularly memorable?
Dance of Life was special as it was my first submission to Celebration. You can imagine my surprise when the magazine arrived in the mail, and my piece was on the cover.

Is there a particular style of rugs that you're most interested in hooking?
The particular style of rug that most interests me is one that is simple in design and very colourful. When I feel like a more structured challenge, I hook oriental and crewel patterns. As well, I have designed my own crewel patterns. Both oriental and crewel invite the use of the bright colours I prefer. On occasion I push myself by hooking something very challenging in detail, like the portrait, My Son, Jesse.

What's your favorite part about hooking a rug?
I love the relaxing and repetitive motion of pulling up loops, and I love the challenge and frustration of watching it progress to completion.
 
What's a piece of advice you'd give to a new rug hooker?
I am always encouraging my friends and students to do their own thing and to step out of their comfort zone with design and colour. Even when following a pattern, my advice is to change it up to reflect their personal style.

What do you love most about Celebration?
I love feasting my eyes on the creativity of the best of the best. I love the inspiration it brings to me. For example, I can be in a hooking slump, and looking through it will send me running to my next piece of linen.
Table of Contents
YOUR RECENTLY VIEWED ARTICLES
Free tutorials, expert tips, exclusive partner offers, and more straight to your inbox!