Susan M. Cunningham: Class of 2018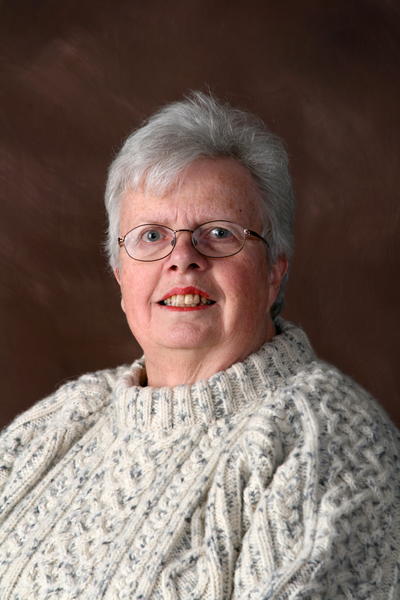 Name: Susan M. Cunningham

Location: Laramie, Wyoming

Tell us a bit about yourself. What are some of your interests and hobbies?
Over the last 50+ years I've worked as a software developer and as an antiques dealer, selling 18th and 19th century items such as coverlets, quilts, samplers, grandfather clocks, dower chests, stoneware, redware pottery, toleware, and some folk art at major antique shows in the East and South, such as the long-running "Heart of Country" shows. We sold a few antique hooked rugs over that time period, but they didn't intererst me as much as quilts and coverlets. I tried my hand once at quilting—to repair a quilt I hadn't known had a damaged block. I definitely knew I didn't want to get involved in making quilts, just buying and selling them to leading antiques dealers.

I developed a product for sales counter management in antique malls which grew over the years to be the most commonly used product in that type of business. About 2003 or 2004, I encountered a copy of Rug Hooking magazine at a newsstand—because of the colorful Halloween rug on its cover. Soon after I became an avid rug hooker. I've made well over 50 rugs since 2005.

Since selling off my software product in 2013, I'm almost a full-time rug hooker.

How did you get introduced to rug hooking?
I was intrigued by a colorful Halloween rug on the cover of a Rug Hooking magazine back in 2003 or 2004. I bought it and promptly subscribed. Then I bought some books and eventually found a hook and some backing and purchased some thrift store wool. I learned of a store in Colorado that had just opened as a rug hooking store. I visited and bought a frame, better hook, and a cutter. I watched the owner hook a few loops, and then I tried it out.

What was your first project?
After buying a hook and frame, I hooked a simple original design of several paisley shapes I'd drawn on backing. I finished that piece and eventually had an upholsterer cover a Victorian iron footstool with it. I next started on a portrait of an elegant woman, which I adapted from an 1820s watercolor portrait made by a woman. I bled some red wool and put white wool into the "blood" to get flesh tones. I had nobody to tell me faces were "hard." Meanwhile my brain kept thinking of something else to work on. I drew a very original design of a castle, put some cats around it, and completed it before I completed the face. That second rug of mine was published in a Celebration magazine in about 2007.

Is there one rug that stands out as being particularly memorable?
I really liked working on my Felix Feneon rug, an adaptation of an 1890s painting by French impressionist painter Paul Signac. The moment I saw that painting online, I jokingly said to myself "That artist's wife had to have been a rug hooker," because I could so easily imagine using swatches to do parts of the area behind the main figure of Felix Feneon. There was no actual background—just areas of motifs Signac adapted from Japanese kimonos. I remember well the "sadness" of not getting to work on it any more when I pulled through the last loop of the border.

Is there a particular style of rugs that you're most interested in hooking?
I really like to hook wacky, weird, and whimsical rugs. They can be really wacky, but I sure don't like to have them called "cute." My Jazz for the Night Owls falls in that category.

What's your favorite part about hooking a rug?
I like to do rug borders. Every rug I've made so far does have a border. I remember doing one with a complex interlocking "curlicue" motif in the border and vowed to never again do something so complex in the border. I think a border acts like a picture frame and makes the rug more a piece of art than something to put on the floor. In fact, none of my rugs so far have ever been used on the floor. My excuse is that I don't want my two cats getting hair all over my rugs.

What's a piece of advice you'd give to a new rug hooker?
Be patient. Make each area and each motif the best you can do at the time. Sometimes you'll want to rip out one area or motif and re-do it. I think it's better to do that than always say "I should have..." You'll look back later and realize how you still might have done better, but don't get hung up on something. Just do the best you can at the time and move onward to another rug with other interesting challenges. You'll be pleasantly surprised at the improvements in your work after 5 or 10 completed rugs under belt. I still re-do areas which just don't work out the first time—either by color choice, funky wool I don't like to hook with, or whatever. When working on a crewel rug published in Celebration, I was almost halfway done doing an off-white background in a #3 cut with three different colors of ivory when I decided the background was fine for a "primitive" rug of a funky cat or dog but NOT for a crewel piece. My one rug hooking friend saw me rip it out immediately after I showed her that rug, but we both agreed when it was completed with a wonderful soft "Old Ivory" wool I dyed that it looked so much better.

What do you love most about Celebration?
Seeing some superb fine-cut rugs and the wonderful color choices of some rugs. For example, I think the "iron workers" rug in the 2017 issue was a real "tour de force."
Table of Contents
YOUR RECENTLY VIEWED ARTICLES
Free tutorials, expert tips, exclusive partner offers, and more straight to your inbox!