Abby Vakay: Class of 2018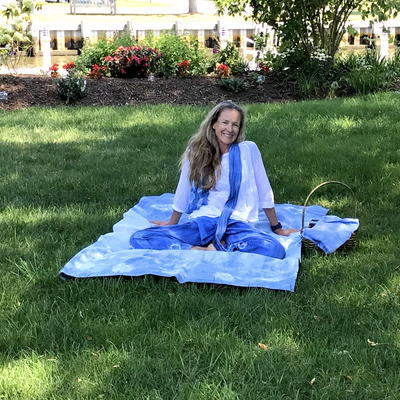 Tell us a bit about yourself. What are some of your interests and hobbies?
I founded and own Hamptons Yoga Healing Arts in Westhampton Beach, New York. I am still an avid rider, as a continuim of my life and love of horses.

How did you get introduced to rug hooking?
I was introduced to rughooking through a dear friend named Mary Sheppard Burton who became for me a transformational teacher of all aspects of dyeing, hooking, and telling my story via the rugs I hooked.

What was your first project?
My first hooking was an important dog in my life at the time, a Jack Russell Terrier named Jazz, who inspired the rug being shown in this show.

Is there one rug that stands out as being particularly memorable?
Each rug I hooked, and there were many, is held equally near and dear.

Is there a particular style of rugs that you're most interested in hooking?
I'd like to return from hooking in mixed media back to the more traditional ways of hooking primitives for the floor—functional pieces.

What's your favorite part about hooking a rug?
Dyeing the wool and making happy piles of color and value.

What's a piece of advice you'd give to a new rug hooker?
Find a great, inspired teacher who devotes her love for the whole process of hooking and the dedication it takes.

What do you love most about Celebration?
Its challenges us to keep our study and skills constant, and high.
Table of Contents
YOUR RECENTLY VIEWED ARTICLES
Free tutorials, expert tips, exclusive partner offers, and more straight to your inbox!