Carib
By:
Gail Dufresne, Celebration Hall of Fame 2018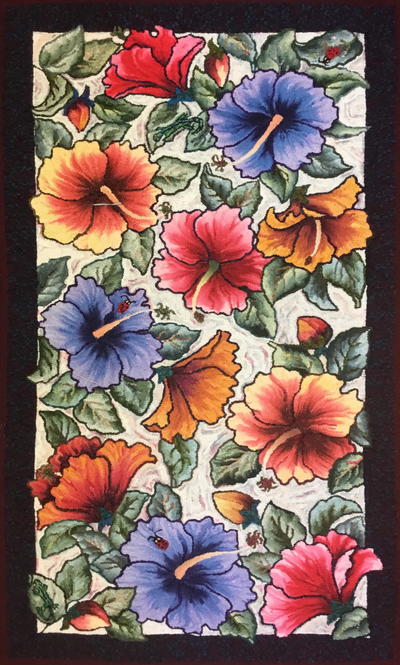 Dimensions: 57" x 30"
Materials: #3-, 4-, and 5-cut wool on burlap
Designed by Jane McGown Flynn and hooked by Gail Dufresne, Lambertville, New Jersey, 1998.
Featured in: Celebration IX

"Carib was selected for me as my first teaching project for the Southern McGown Teachers Workshop. Of course I loved the choice since I was still a professional gardener at the time. I decided to use dip-dyed wool, which I thought perfect for hibiscus. I started the rug at the Green Mountain Rug school in a class taught by Ingrid Hieronimus in June 1998. Ingrid suggested using 'as is,' undyed, textured wools to outline each flower, which was a big deal back then since it was before many of us started to use textures in our rugs. The result was a flower that was very easy to shade since the texture outline automatically separated the petals from each other. Ingrid also suggested a white background, which was very lightly spotted with each of the three primary dyes. My efforts won me the honor of being selected as the guest teacher at Western Teacher's Workshop, all expenses paid, where one of the comments about my rug was a complaint that so many of us were now using 'wide cuts.' I used a #3, #4, and #5! I guess it was the #5 that was the culprit! I added the lizard and lady bugs to the design."
- Gail Dufresne, Celebration Hall of Fame 2018
YOUR RECENTLY VIEWED ARTICLES
Free tutorials, expert tips, exclusive partner offers, and more straight to your inbox!