The Beauty Around Us
Rug hooking and the powers of observation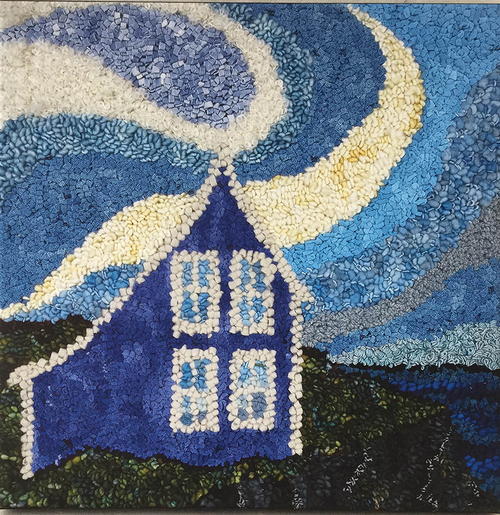 Mystery in the Sky, 20" x 20", wool cloth and yarn on linen. Designed and hooked by Deanne Fitzpatrick, Amherst, Nova Scotia. In the collection of the Art Gallery of Nova Scotia. 

Walter Oake, an old friend of mine who was prone to mocking people, used to call me "the detective." One evening while visiting his home I asked about a painting that had been moved off the wall in the entryway. He said, "What are you, a detective?" I laughed, and every time I visited after that he would quiz me on what had changed, and I would usually know. He was always surprised, but I never was. 

You see, I know that my power as an artist is to watch and observe. It is your power too. If you want to reflect the life around you in your rugs, then you must observe that life as if it were a movie that you love. You have to pick up on each detail, all the subtleties . . . and you have to make note of them.

Observation can be your superpower. It will transform your rugs and maybe even you.

Watch the world around you. That includes everything from the way the pictures are arranged on your friend's wall to the little stamen in the center of the flowers in your garden. This kind of observation will make you a better rug hooker. But to tell the truth, being a rug hooker often makes you a better observer. I cannot count the times that people have left one of my workshops and come back for the second day to say that they saw the sky differently after we had talked about hooking it.

Hooking rugs opens your eyes. Suddenly you are driving along in a car, and the roadside going by in a blur transforms itself into wool in your mind. You look at your grandchildren playing on the beach and you think, "Wouldn't that make a great rug?" I remember being at a concert and thinking more about how the singer would look as a rug than about the music.

Rug hooking captures your imagination and helps you see the world in living color. The details become more interesting and your life becomes richer for it. That is the beauty that so many people find in rug hooking. The artist needs to observe, and the making of art makes you want to observe even more.

I have always had a strong visual memory. I remember my childhood in pictures, and the pictures reinforce, and sometimes perhaps even create, the story. You know how memory is—it is far from perfect. As a child I watched the world around me like it was a reel of old family pictures. It has always been part of my nature. I loved to sit in the window and watch people walking down the hill to bingo or to Mass. I watched what they were wearing, who they were walking with, the wind blowing their hair. I watched for the sake of watching.

As an adult, though, I began exercising this power of observation. I made quick sketches. I took notes. I looked harder for the small details. I understood the value of observing. (As a child I think I was more nosy!) Now I am watching and taking notes for a reason. I like that about being an artist. It makes "nosy" feel so much better. You can even just call it curious.

Start exercising your own power of observation. Carry that into your rugs and watch what happens. Here is a suggestion: the very best thing you can do when you are hooking the sea is to think about the sea. The same goes for any element of your rug, whether it is the night sky, the petal of a flower, or your home. It is hard to understand how this works, but it does. 
YOUR RECENTLY VIEWED ARTICLES
Free tutorials, expert tips, exclusive partner offers, and more straight to your inbox!