Brushstrokes
Hooking Your Own Van Gogh Masterpiece
Updated August 07, 2023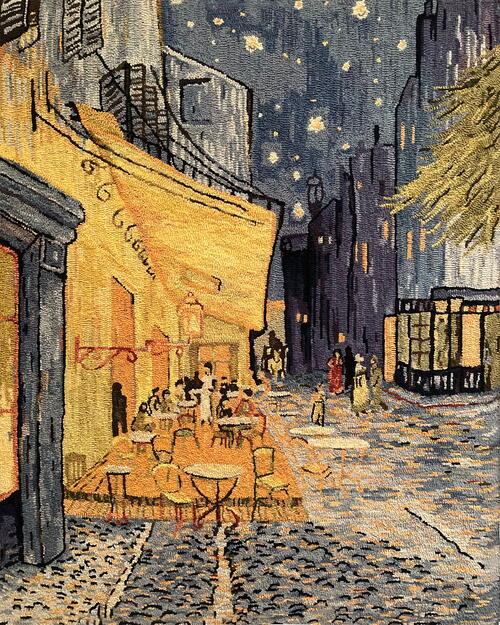 Brushstrokes
While all of Vincent van Gogh's surviving works are valuable, the pieces that he painted in the last three years of his too-short life are the culmination of his artistic brilliance. Collectors and museums are happy to pay nine-figure prices for these later works, painted in the few years leading up to his untimely death in 1890. For the most part, those are the works you will see represented here.

How, you may ask, can rug hookers of varying experience successfully adapt paintings created at the very peak of Van Gogh's genius? Here we hope to share some of the ways in which an incredibly generous teacher has been able to inspire her students to take on the challenge of a Van Gogh adaptation— to navigate a transition from the admired Impressionist painting to the rug taking shape under one's own hands— and to carry it through to completion.

Janet Conner has distinguished herself as a teacher of fine-art adaptation in rug hooking, and she has taught across the country. Now retired from a long career as an art educator, she is uniquely qualified to help rug hookers appreciate, study, and adapt masterworks, particularly those of Impressionists like Van Gogh.
YOUR RECENTLY VIEWED ARTICLES
Free tutorials, expert tips, exclusive partner offers, and more straight to your inbox!