Celebrating My Two Loves
Hooking portraits in yarn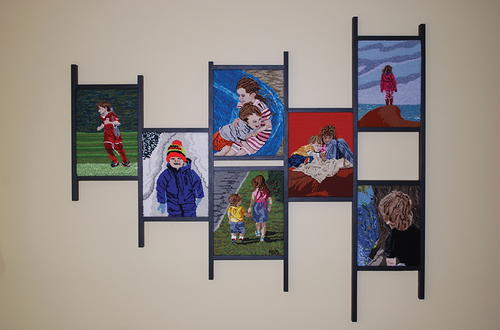 My Two Loves, 58" x 49", wool and acrylic yarns on linen. Designed and hooked by Karen D. Miller, Ottawa, Ontario, Canada, 2016.

Some years ago, a friend asked if I would do a piece of her children. "I can't do faces," I warned her, and she did not ask again. Faces scared me. They seemed to me to be the highest challenge for somebody with no formal artistic training and scant ability to draw. Even though I had gained tremendous confidence in depicting the human form from having completed several figures of my own children, I still saw faces as too risky. I knew that even just one misplaced loop could—and likely would—ruin months of work.

Quite separately, at the end of 2015, after a busy year of exhibits, I resolved to relax and experiment with my art in the coming year. My husband was very encouraging, and once again tried his best to convince me that experimentation means mistakes and that I shouldn't expect everything to work. He counseled me to try new techniques on small pieces and to work up to using them in finished pieces. Of course nothing worked out as either he or I imagined. My children diligently saw to it that I never relaxed. And far from being small, my first experiment in portraiture is now a commanding 59" by 48" presence on my living room wall.

I think that it is fitting that the theme of My Two Loves is confidence. While I was conquering the technical challenge of hooking faces, my children were pushing the boundaries of their own worlds, sometimes together and sometimes in their individual ways. Their curiosity fascinates me. They are growing into their own little people now, showing aptitudes both for familiar things and new things all of their own. Each panel is of a moment when I was particularly struck by something they were doing, and especially their love for each other. This very personal inspiration proved to be very important to the successful completion of the piece. You have to be very committed to a piece to re-hook it over and over again to get the edge of a shoulder or the angle of an eyebrow just right.
YOUR RECENTLY VIEWED ARTICLES
Free tutorials, expert tips, exclusive partner offers, and more straight to your inbox!