Eye See You
A dream becomes reality though collaboration.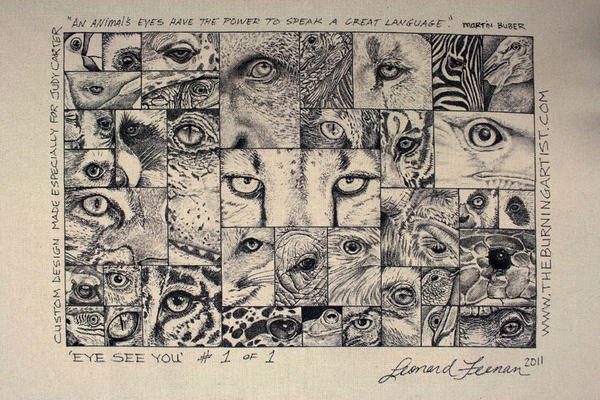 Eye See You, 24" x 36", on rug warp. This custom pattern combined Judy Carter's concept and Leonard Feenan's design and drawing to create a unique, one-of a kind masterpiece.

Have you ever had an idea for something you really wanted to do but just didn't have the time, resources, or talent to move it forward? Here's how my "eye idea" became a reality by teaming up with another artist, Leonard (Lenny) Feenan. I started hooking close-up views of animals in 2005 and quickly became addicted to seeing animals come to life as I worked. As I expanded my collection of animal rugs, people kept telling me how much they liked the eyes. So I decided I needed to hook an "eye rug": it would include one eye and just enough of the face in each block so the viewer could identify the animal. I started by collecting visual aids of animals with expressive eyes. Many of the visual aids were photos I took at zoos and animal sanctuaries. I knew what I wanted the rug to look like, but I never found the time to design the pattern. In the meantime, my visual aid collection—and my ideas for the eye rug—kept growing.

This article is from the January/February 2012 issue. For more information on our issues, check out our issues page.

YOUR RECENTLY VIEWED ARTICLES
Free tutorials, expert tips, exclusive partner offers, and more straight to your inbox!