Flowers in a Strip--Revisited
Flowers provide the inspiration for a simple dyeing technique.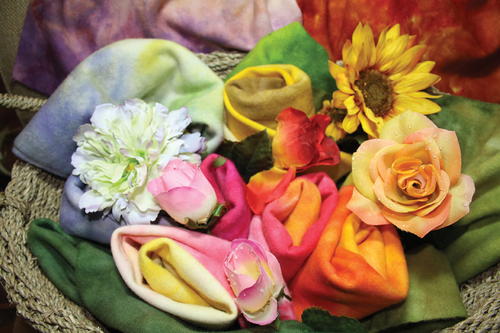 Too often, when I suggest to fellow hookers that they play with dyes and pieces of their stash, they end up with that deer-in-the-headlights look—which is exactly the opposite reaction of what I want to inspire!

If you stop breathing when you think about dyeing wool, then try this: gather up a few fellow hookers, make a lunch to share later, and tackle dyeing together. There is always someone who will know more—and always someone who has never tried dyeing at all. Just play and enjoy the process. Watching beautiful pieces of wool come out of the pans is always exciting. I guarantee you will have fun!

To get you started, let's revisit a tried-and-true technique that shows how easy it is to dye wool. All you do is pour one continuous line of color across the pan, then repeat it for as many colors as you like. After the dyes are in the wools, just cover the pans with a piece of aluminum foil, and throw them in the oven for 25 to 30 minutes. That's it! Pour yourself a cup of coffee or tea, and relax.

This article is from the November/December 2011 issue. For more information on our issues, check out our issues page.
YOUR RECENTLY VIEWED ARTICLES
Free tutorials, expert tips, exclusive partner offers, and more straight to your inbox!