The Forget-Me-Not Project
Remembering Those Who Served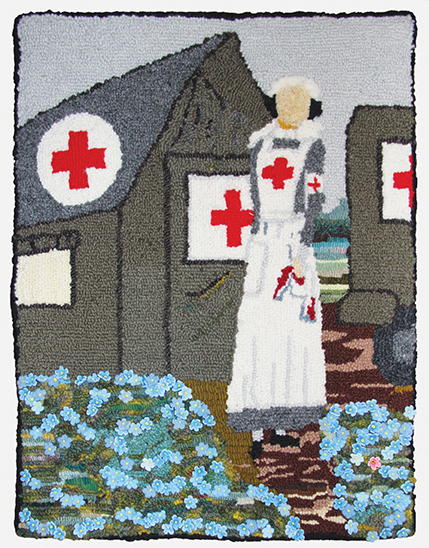 The Women of the Volunteer Aid Detachment, 16" x 20", wool appliqué, embroidery, wool material, and wool yarn hooked on linen. Designed and hooked by Jackie Alcock, 2017.

In the early 1900s a small island on the Eastern seaboard of North America was known as the Dominion of Newfoundland. Essentially it had status as a country like Canada and the United States. Its people were not many but they were hard working and lived simple lives. Life was hard but families worked together. Then a dark force began to engulf the world and she sent her young men off to war.

This was World War I (July 28, 1914 to Nov 11, 1918) and this war was brutal. There was not one community on the island that did not lose at least one man to WWI. In the end, Newfoundland lost nearly a full generation of men and life became even harder.

Time passed and 100 years later, Newfoundland and Labrador is now a province of Canada. There must be a way to say "Thank you, you are not forgotten."

As an artist, what could I do? One night I woke up with a picture in my mind of an army blanket with forget-me-nots (the official NFL flower of remembrance) growing through it. I translated that image by sewing forget-me-nots onto three used army blankets, a forget-me-not for each Newfoundlander who served in WWI. In total this would be about 13,000 handmade forget-me-nots.

To help finance the project I applied for grants. As I waited for the decision on the grants, I designed several cutting dies to cut the flowers. I ordered one die from Ellison in the US (this die was the best investment I ever made). Well, as they say, don't put the cart before the horse because my grants were not approved, so I put everything aside.
YOUR RECENTLY VIEWED ARTICLES
Free tutorials, expert tips, exclusive partner offers, and more straight to your inbox!