Not All Rugs Are Square
Irregularly shaped hooked pieces--why not?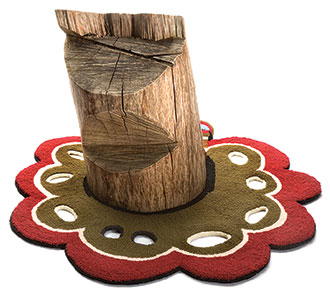 Photography by Brad Stanton
Tree Skirt: Tail Feathers, 29" x 29" x 16?, hand-cut wool and chenille yarn on linen with found wood. Designed and hooked by Liz Alpert Fay, Sandy Hook, Connecticut, 2013.

From earliest childhood, I have wanted to be an artist. My inspiration is drawn from childhood memories of walks in the woods, hikes in the mountains, and canoe trips over lakes and rivers throughout New England. In more recent years, the Adirondack Mountains have become a place of both physical and spiritual renewal for me.

For several years, I have been creating mixed media sculptures that enable me to combine found objects with my textile work. These found objects are gathered in the outdoors and at local flea markets.

In 2006, when preparations began for the construction of my new studio, we had to cut down some of the mature trees. It was then that I realized how we felt about those trees. They were precious to us, and losing them was like losing old friends. We made a conscious decision to not waste the wood from these trees and to incorporate it into our lives.

This was the beginning of my working three-dimensionally, and I found it exciting. As I worked and experimented, I could not keep up with my ideas, and so began the "Tree Skirt" series, which is still ongoing today. Each piece in the series celebrates the beauty of the natural world and expresses my concerns for our dwindling natural resources, especially the trees. By surrounding ordinary pieces of wood with textile "skirts," I am isolating these pieces of wood and asking the viewer to take another look. My intention is to showcase the beauty in nature, which may be overlooked in our everyday lives.

This article is from the January/February 2014 issue. For more information on our issues, check out our issues page.
 
YOUR RECENTLY VIEWED ARTICLES
Free tutorials, expert tips, exclusive partner offers, and more straight to your inbox!