A Passion for Punch
A Calendar Hanger for the New Year: Part One of a Series
By:
Project by Simone Vojvodin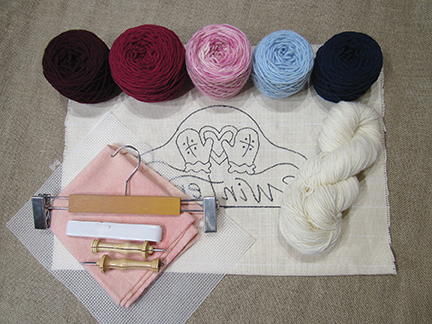 Gathering the materials for the project.

Punch needle rug hooking has recently taken the fiber world by storm. It is fun, quick, satisfying, and has endless possibilities. The ergonomics and ease also make it great for those who have trouble pulling loops or maintaining a consistent height. I wouldn't be a responsible puncher if I didn't add the warning that it is also highly addictive! Plus, doing the things we love helps to chase away the winter doldrums, so these sweet calendar hangers are a great way to practice and display our punch hooking.

When the holiday hustle and bustle is behind us, we in the northern hemisphere are left with many more long dark nights of winter before us. It can be a special time of contemplation, rest, and renewal. Winter also brings thoughts of crisp snow, cold toes and frozen noses, glistening icicles, and getting warm by a crackling fireside; it's a time to snuggle up with those we love and to work on our wonderful woolly hooking. A pattern featuring warm mittens and loving hearts is the perfect project.  

Punching your Design
Trace the design on the monk's cloth, the backing of choice for many punchers. If you don't have a light box, windows make a great substitute, and monk's cloth is easy to see through. You only need to draw the top part of the design as the lower dotted rectangle shown on the paper pattern demonstrates the shape of the wool fabric you will cover the back with when you finish the punching.

You'll notice that the words are backward—this is not a mistake! Punch needles push loops instead of pulling them, so the pattern side is actually the back of the rug. Punch designs are therefore created in mirror image so that you can read the lettering properly from the finished side. 
YOUR RECENTLY VIEWED ARTICLES
Free tutorials, expert tips, exclusive partner offers, and more straight to your inbox!