Punch Needle Rug Hooking Around the World
Have You Heard About Rug Punching?
Updated October 18, 2023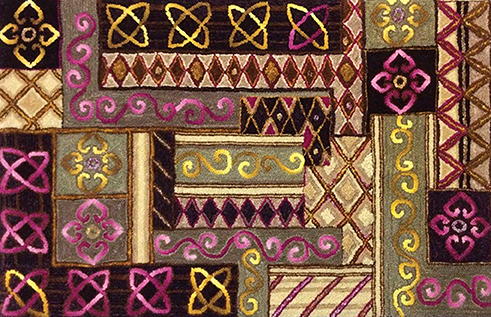 Unlimited Boundaries – Ingrid's certification rug with mainly punch hooking, scrolls in regular rug hooking, and some ribbon as embellishment.

This past year has been busy for Amy Oxford. Amy, who has been involved in the business of punch needle rug hooking for over 30 years as a commercial rug hooker, book author, and inventor of the Oxford punch needle, has watched a traditional American craft erupt into a global craft movement in the span of less than a year.  

At her heart, Amy is a teacher, and her mission is to share the craft of punch needle rug hooking with others. In 2012, she purchased a Colonial farmhouse in the beautiful Champlain Valley of Vermont and turned it into the Oxford Rug Hooking School. The building, which was built in 1816, is now the site of the Oxford Punch Needle Rug Hooking Teacher Certification Program, an intensive week-long program led by Amy and designed to train others to punch with precision and to teach the craft of punch needle rug hooking in their own respective cities.

In 2016, I was at West Coast Craft in San Francisco when I saw the work of textile artist Alise Anderson. Inspired, I looked up everything I could about making loops in fabric. I had no experience with traditional rug hooking, let alone punch needle rug hooking. After a few false starts (including the purchase of a commercial grade Chinese tufting gun!), I found Amy's website and enrolled as a student in the Oxford Teacher Certification Program. I certainly had no idea that the quiet world of punch needle rug hooking was about to explode.
Shortly before my arrival at the Oxford Rug Hooking School, textile artist Arounna Khounnoraj, co-founder of Bookhou studio in Toronto (which has over 150,000 Instagram followers), posted a video on Instagram demonstrating a project using an Oxford punch needle. The video went viral. Meanwhile, Amy had only recently set up her Instagram account. Coming into work on Monday, Amy was shocked to see dozens of orders for the Oxford Punch Needle coming in from all over the world.

Those who do punch needle rug hooking need not be told how obsessive it can become. The versatility of the craft and the warm and welcoming community of makers who enjoy practicing it are only a small selection of reasons people take to it so quickly. Yet I'm still curious how others found their way to this craft. So, in advance of celebrating International Punch Needle Rug Hooking Day (April 13, 2019), I asked some of the figureheads of the new punch needle rug hooking movement a few questions.
Australia: Clare Thornley
Clare Thornley is the owner of FeltFine, a family-owned Australian business that supplies raw materials and tools to fiber artists and offers fiber processing services. A knitter at heart, she enjoys all of the wool-based fiber arts. Clare is American-born, holds a PhD in Historical Musicology from New York University and now lives on the New South Wales Central Coast with her husband and two sons.

IN HER OWN WORDS:
I own a small fiber arts business and supply raw materials and tools to fiber artists. I love all of the woolly fiber arts. I enjoy working with natural colors as well as dyed fibers.

I come from a lineage of craftswomen and, as a young child, I learned how to knit and crochet from my mom and her mom. But it wasn't until I became a fiber arts business owner and surrounded myself with amazing fibers and colors that I finally began to discover my creative self. Now I love to experiment with color combinations and explore how different fibers work together to make new, beautiful creations.

I first heard about punch needle rug hooking from a customer who saw it online and thought we should stock the Oxford punch needles. Since then, we've worked with The Oxford Company to bring the tools to the Australian market. We also stock a range of backing fabrics, hand-dyed rug yarns (dyed by a local indie dyer), and rug punch frames (designed and made by my husband, aka Mr. FeltFine).

I am constantly inspired by the creativity of my customers, who use fibers we stock in the most amazing ways. I also find inspiration in the creative work of my children, who have no fear of color or design. 

I am fortunate that my role as a fiber arts business owner places me in the middle of a nexus of creative crafters. I belong to our local fiber arts guilds and enjoy crafting with friends at fiber arts camps and retreats. Australia has a strong tradition of craft guilds and, due to its geographic isolation, strong local crafting communities. Working in collaboration with my customers and local groups, we are building on these traditions in an effort to keep these organizations active and relevant for a new generation of fiber artists and hand crafters.
Canada: Ingrid Hieronimus
Ingrid Hieronimus is the owner/operator of Ragg Tyme Studio in Mannheim (Kitchener), Ontario, Canada. She is an Ontario Hooking Craft Guild certified teacher, a McGown Certified Instructor, has her certificate in Fibre Arts: Traditional Rug Hooking from St. Lawrence College, and is an Oxford Punch Needle Rug Hooking Certified Instructor. She is the author of three dye books, has been hooking for 40 years, and teaching and dyeing professionally for about 30 years.
She has been featured in Celebration of Hand-Hooked Rugs and is internationally known for her teaching, dyeing, and rug hooking. 

IN HER OWN WORDS:
I challenge myself in each rug hooking project—I try something I haven't done before or try something new. For example, combining traditional rug hooking with punch hooking, wool applique, and proddy. In my early days of rug hooking I did things that were very traditional. When I became a teacher I had to become more creative and come up with different ideas and techniques. 

I took my first class with Amy at the Green Mountain Rug Hooking School. This was a weekend class and I just loved it. Punch needle became another technique I could add to my rugs. Amy Oxford is my biggest influence in punching and has been a great inspiration. 

I belong to the Georgetown Rug Hooking Guild. They have workshops throughout the year and I attend as many as possible. This group is very actively involved in promoting the art of rug hooking.
Unlimited Boundaries – Ingrid's certification rug with mainly punch hooking, scrolls in regular rug hooking, and some ribbon as embellishment.
Chile: Soledad Navarro and Serena Marchant
Ese Textil was created by Soledad Navarro, a graphic designer with a marketing degree, and Serena Marchant, a yoga instructor, friends since 2000. With combined experience in all forms of textiles, including crochet, sewing, screen printing, and embroidery, they began teaching punch needle rug hooking in January 2018.

IN THEIR OWN WORDS:
We create pieces of art, experimenting with new materials, creating our own modern and colorful designs.  

We both studied graphic design, always expressing ourselves through the crafts with different techniques and our own styles. We started with beads, recycled clothes, textile screen printing, always nourishing each other.
We saw a @bookhou video on Instagram showing how to embroider with the Oxford needle. Our biggest influences are Bookhou, Rose Pearlman, Julie Weaves, Andrea Miller, Studio Myome. We also got inspiration from Bauhaus textiles, especially those made by Gunta Stölzl. 

We are supported by small companies  that make wooden frames, needles, and fabrics—all made in Chile. We've created a small community of students who have taken our workshops and are always interested in sharing their creative experiences.
Germany: Kelly Wright
IN HER OWN WORDS:
D.K. Wright Construction may seem an odd name for a crafts company, but really, we're all about helping our incredibly friendly and talented customers create a warm, self-constructed home environment, and balancing things that seem incompatible: crafts and technical things, city and country, impulse and structure. Raised half on a farm with lots of sheep in Missouri, half in the metropolitan New York area (aka Jersey!), I've been hooking and braiding rugs since I was 6 years old. I moved to Berlin, Germany, in 1990, and wanted to share some of this knowledge with my new friends and neighbors.  I wanted to combine a little bit of North American crafts with European sensibilities and D.K. Wright Construction was born (or reborn, to be precise—my Dad started it in 1962 and he really did do heavy construction. I'm just carrying on the tradition in another way.).

I combine American traditions with European sensibilities. My approach to rugmaking is very much like how I would approach a canvas: either illustrative elements or color elements have to take center stage and I like adding details that have emotional meaning to me: something that makes me laugh (say, a porcupine holding a balloon) or something that recalls a certain emotion (like an embroidery pattern that I adapted from Scandinavian knitting to use as a border around a picture of a king on his horse).

I once described myself as a chronic needle worker with a very strong connection to animals and trees. By the time I was six, my grandfather had taught me how to shoot, fish, and pitch a tent and my grandmother had taught me to knit, quilt, sew, and hook and braid rugs. My whole life was more or less built around making rugs and respecting the environment. I use textiles as a medium to interact with other people and the world around me. That has always been the crux of my creative energy.

I was given a copy of Kathryn Jackson and Richard Scarry's The Golden Book of 365 Stories: A Story for Every Day of the Year for Christmas in 1974, which I read every night for a year. The story for December 17 describes a mother making a play rug with streets and things out of colored bits of wool for her son. That completely captivated my imagination. I took the book with me the next time I visited our family farm in Missouri in the summer of 1976 and asked my grandmother about it. She disappeared into our farm shop and came out with a box of equipment, including a load of wool, cloth, and a Hubbell punch needle. She handed it to me, saying, "You're in business." And I've been punching ever since. 

Amy Oxford is a huge inspiration. I love her can-do attitude, her kind spirit, and her pioneer persistence. My go-to braiders are Kris McDermet, Dianne Tobias, and Christine Manges. I love soaking up the vibe in historic family homes, like Sagamore Hill (Teddy Roosevelt's house on Long Island). Other artistic influences include the pure fun genius of Alexander Calder, the very talented weaving women of the Bauhaus like Gunta Stölzl, the incredibly talented team around the Inaluxe brand, and the paintings of Wenzel Hablik and Martinus Rorbye. 

When I was a kid making rugs, I was cocooned by really lovely older ladies, but rejected by other kids. When I moved to Germany in 1990, I was married to a painter who, together with his friends, dismissed craftsmanship, something they considered inferior to fine art. My work was met with a lot of eye rolling and head shaking, and it destroyed my self-confidence (although thankfully not completely!). When I finally made it to Amy Oxford's Rug Hooking School in June of 2018, I found my tribe: a group of incredibly funny, talented, and warmhearted women who like to punch. That week of teacher's training with them changed my life and I like to think of them as true soulmates. Having been a part of that group gives me the strength and the joy needed to go out and spread the word here in Europe and have fun on Instagram.
USA: Lisa Congdon
Fine artist, illustrator, and author Lisa Congdon is best known for her colorful paintings and hand lettering. She works for clients around the world including MoMA, REI, Harvard University, Martha Stewart Living, Chronicle Books, and Random House Publishing, among many others. She is the author of seven books. Her latest book, A Glorious Freedom: Older Women Leading
Extraordinary Lives, was released by Chronicle Books in October 2017. She was named one of "40 Women Over 40 to Watch" in 2015 and she is featured in the 2017 book, 200 Women Who Will Change the Way You See the World. 

She lives and works in Portland, Oregon.

IN HER OWN WORDS:
I am primarily an illustrator and fine artist, which means I do both commercial work and personal work as an artist. I teach, write, and illustrate books, run a retail shop out of my studio, and do a lot of public speaking. 

I grew up in a home where creativity was definitely encouraged (my mom is a maker), but I was honestly mostly more interested in playing soccer outside with the neighborhood kids than sitting at a table and drawing. It wasn't until I was in my twenties that I started to have creative hobbies like sewing and needlework. And then when I was in my early thirties I took a painting class just for fun, and I was hooked. I began painting, and then drawing. Over time I got better and better at it, and ten years later it became my profession. I'm self-taught so it took years for me to develop my skills. But once I did, I realized that making art was something I wanted to do all the time, even as a living. So, I started finding ways to monetize my work, from illustration to having art shows to teaching classes and eventually writing books. 

I was instantly enamored by Isa Beniston's work, which is very modern and edgy, and I loved the combination of this traditional craft combined with contemporary designs. I bought supplies and got started and it took me about a day of practicing to get the hang of it; now I'm addicted. 

I love mid-century illustrators and designers, for example Alexander Girard, Bruno Munari, and Mary Blair. And so my work definitely has a bold, graphic feel. The most fun thing about punch hooking is translating my colorful and graphic work into punch hooked pillows. I really love picking out yarn colors and deciding on the scale of my pieces. It's such a wonderful tactile experience and brings my normally one-dimensional work to life in a different way. 

I am very much part of the art and craft community here in Portland. Some of us are professional makers and some of us are hobbyists. But the common thread is that we enjoy making things. Portland is special in that there is a lot of making (art and crafting and design) happening here. In fact, the city is known as being an innovation hub. It is not hard to find workshops, drawing nights, and shops filled with handmade goods wherever you turn.
Lisa Congdon. Photo by Christopher Dibble.

Lisa Congdon's Pillow. Photo by Lisa Congdon.
International Punch Needle Rug Hooking Day: April 13, 2019
In the manual to become an Oxford Certified Punch Needle Instructor, there is a list of expectations for future instructors. On this list, instructors are asked to be kind, patient, and well-prepared. They are also asked to be ambassadors for punch needle rug hooking. 

In 2010, Oxford instructors created International Punch Needle Rug Hooking Day (IPNRHD): a day that provides workshops and demonstrations across the US, Canada, and the United Kingdom. In 2019, IPNRHD will be celebrated through gatherings on Saturday, April 13th, and globally across social media in the two weeks leading up to it! Starting on April 1st, punch needle rug hookers all over the world are encouraged to share their work and talk about their practice by answering a daily prompt (see the list of prompts at www.punchrughooking.com/punchneedleday) on Instagram and tagging it with the hashtag #punchneedleday2019.

Busy Bee pattern was created by Isa Beniston of Gentle Thrills and is made available for Oxford Instructors to use as part of IPNRHD 2019, and we present it to you in this issue of RHM (see page 61). Makers interested in participating in IPNRHD are encouraged to punch Isa's bee pattern by April 13 and tag their posts with the hashtag #punchneedleday2019. 

Not on Instagram? We still want to see what you make! On Pinterest pin your photos on the "International Punch Needle Rug Hooking Day" board or email pictures of your finished bee to info@punchrughooking.com so we can share them online with the international punch needle rug hooking community!
About the Author:
Christie Beniston is a public artist based in Solana Beach, California. Her commissions include the San Diego Airport, Lucille Packard Children's Hospital, and Los Angeles Metro. Always a student of design and craft, Christie received her certification as an Oxford Instructor in 2017, when she opened PUNCH!, a studio offering supplies and creative space for teaching the exciting craft of punch needle rug hooking. www.punchrughooking.com
YOUR RECENTLY VIEWED ARTICLES
Free tutorials, expert tips, exclusive partner offers, and more straight to your inbox!