The Orphan Train Rug
Hooking a piece of history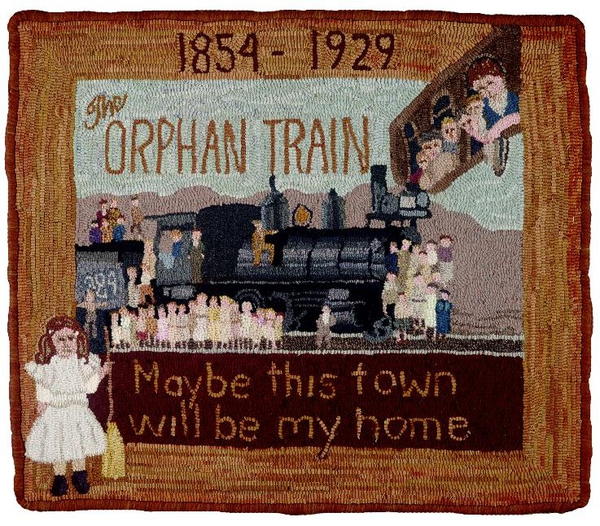 Photography by Impact Xposures
The Orphan Train, 30" x 26", #3- to 6-cut wool on linen. Designed by Donna Hrkman and hooked by Hazel Almendinger, Johnstown, Ohio, 2016.

Do you know about the orphan trains? I was reintroduced to the story of the orphan trains (also known as mercy trains or baby trains) when I saw a presentation by author Allison Moore and her musician husband. They asked the audience how many were familiar with the story of the Orphan Train. Only two of us were: I was, because I taught a book series about the train for my 5th grade class, and another lady whose grandfather went west on the train. The story is not found in many school history books, even though it involved 150,000 to 200,000 children. 

In the mid-1800s, a young minister, Charles Brace, was concerned about the number of impoverished children on the streets of New York City. Those children were often selling rags, newspapers, and matches. Some were digging through garbage cans for food. Today it is difficult for us to imagine this—25,000 homeless children on the streets. 
 
YOUR RECENTLY VIEWED ARTICLES
Free tutorials, expert tips, exclusive partner offers, and more straight to your inbox!