Punch Needle Artist: Caroline Powell
By:
Editors of Rug Hooking Magazine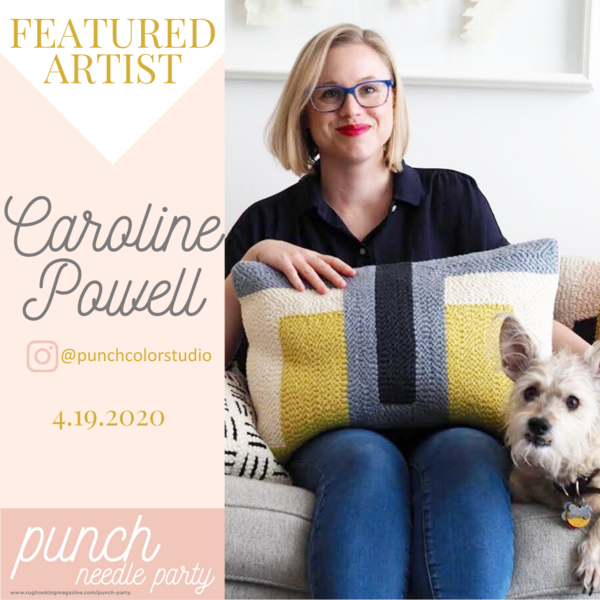 Welcome to Rug Hooking magazine's featured arists series! In honor of international punch needle day, we celebrated by asking some talented punch needle artists to share their experiences with this delightful fiber art: punch needle rug hooking. Check out our exclusive interview with Caroline Powell of Punch Color Studio below. 

About the Artist

Punch Color Studio textiles are handmade with care by artist and designer, Caroline Powell in Oakland, California. Caroline studied Textile Design at the Savannah College of Art and Design and obtained a B.F.A in Fibers. 

Our textiles are made using a technique called punch needling, a process similar to rug hooking, where traditionally yarn (or any kind of continuous material) is interlocked on a backing fabric to create loops. Caroline is inspired by bold colors and abstract shapes and let's the process inform her designs. All materials are all thoughtfully sourced in the U.S.A.  

Please contact us if you are interested in custom pieces or have any questions about punch needling or Punch Color Studio. We look forward to hearing from you!

Important Links
Visit her website
Follow her on Instagram
 
Q&A: Let's Meet Caroline
Q: How did you get started with punch needle?
A: My background from college was in fibers and textiles, but I didn't actually discover punch needle until about 2 years ago when surfing the internet. I was looking for something that I could do in the evenings to relax and release some creativity after my day job. I started with ordering some of the basic supplies to give it a try and once I started, I was 'hooked'. What I also found was that it helped ease my anxiety. The repetitive process is very methodical and calming. Once I started sharing my new work with the world, a friend of mine said, "why don't you sell some of your art!?" That's when Punch Color Studio was born. I started off with selling my art online and taking custom commissions and then added workshops at several local Bay Area studios late last summer.
Q: You do a lot of abstract punch art, how do you come up with your ideas and color palettes?
A: I do a lot of doodles and pinning ideas to Pinterest but usually when I sit down to start a new project, I pick my color palette and go from there. My favorite colors are those I use in my logo, chartreuse, grey and blue. Typically I use around 4-5 different colors in my designs, I find it works well and offers a nice balance. Sometimes I have a design in mind and other times I like to free form with some music on in the background.  
Q: What is the biggest challenge you have as a small business owner?
A: The days lately are challenging all around but my biggest challenge has been time. Running this business is not currently my full-time job (although I hope someday it is!) so I often work late into the night and on most weekends putting together kits, organizing my workshops, prepping for craft fairs, creating new pieces and researching future endeavors.
Q: What do you love most about what you do?
A: I never in a million years thought I would be teaching punch needle workshops but it oh is it rewarding. It's amazing to see people tap into their creative side, even if they think they aren't creative. I'm always amazed at the work that is produced at the end of the class and even more excited when I hear they can't wait to go home and create more and pass their knowledge onto their friends and family. It truly is magical.
Q: What are two pieces of advice you would give to new punch needle artists?
A: 

1. Sometimes I see people get frustrated when their stitches don't look perfect. I would say take it slow, practice and don't give up! Fortunately, punch needle is forgiving in that way.  

2. You don't have to be an "artist" to make beautiful art 
Punch Needle Rug Hooking Quotes to Save and Share!
YOUR RECENTLY VIEWED ARTICLES
Free tutorials, expert tips, exclusive partner offers, and more straight to your inbox!