Vintage Ornaments
Holiday Nostalgia for Your Home
By:
Beth Miller/Parris House Wool Works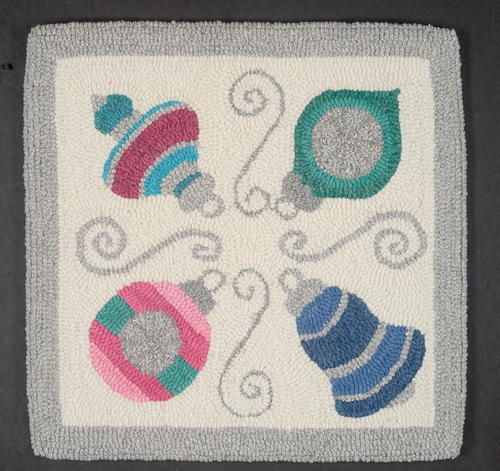 Vintage Ornaments, 15" x 15", #6-cut wool on linen. Designed and hooked by Beth Miller, Parris House Wool Works, South Paris, Maine, 2017.

There is something inherently nostalgic and cheerful about the colorful vintage Christmas ornaments from the era of the tinsel tree. In the 1950s and early '60s post war period, Americans were ready for brighter colors and these were reflected in the space-age, mid-century modern décor. First Lady Mamie Eisenhower inspired families across America to decorate with bold pinks in everything from bathroom tiles to kitchen appliances. This trend naturally spilled over into how they decorated for Christmas; as a result, we have these lovely ornaments that survived from 50 or 60 years ago. Remember those ornaments with striking pinks, golds, bright greens, and blues, often embellished in gold and silver, sometimes with glitter accents?

These make a wonderful subject for a hooked project, in this case a 15" x 15" mat, which you might finish as a throw pillow, or triple the size to make a table runner to brighten your holiday living area.

I teach many beginners.  In fact, making new hookers is my absolute favorite aspect of teaching. With that in mind, I made this pattern simple and inviting for even the newest of hookers. I also made it hookable in larger cuts, so that it would be a relatively quick and easy project for holiday gift giving. The mat shown is hooked in a #6 cut, which is my preference, but I believe the pattern would easily accommodate a #7 or #8 cut.  It's also possible to go down to smaller cuts and finely shade the ornaments, as though they are reflecting the lights of the Christmas tree. 
YOUR RECENTLY VIEWED ARTICLES
Free tutorials, expert tips, exclusive partner offers, and more straight to your inbox!