Terryl Ostmo: Class of 2023
Updated June 27, 2023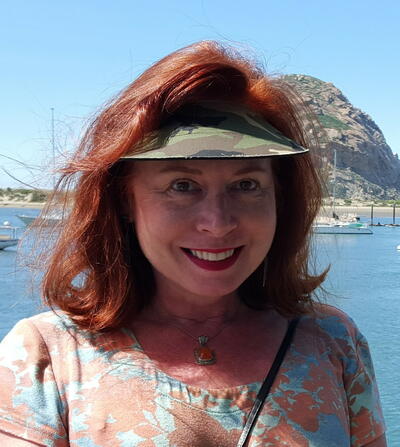 Name: Terryl Ostmo
Location: Wahpeton, North Dakota

Tell us a bit about yourself. What are some of your interests and hobbies?
I've been drawn to working with textiles since I was a young child, first sewing Barbie doll clothes by hand. I graduated to knitting and quilting, and had a great, though brief, time doing all kinds of faux finishing. Eventually, I landed happily with rug hooking.

How did you get introduced to rug hooking?
My first exposure to rug hooking was seeing a very small hooked piece in a quilt shop. I was fascinated. A class was being offered, and I've been hooked ever since. That was back in 1998.

What was your first project?
My first project was a penny rug from a kit. I had to choose my project from a catalog, and it was the largest rug I could find from the offerings. I was certain I was going to love it, so I wanted to go big!

Is there one rug that stands out as being particularly memorable?
Her Night Out was very challenging because I wasn't used to hooking that type of detail.

Is there a particular style of rugs that you're most interested in hooking?
I find beauty in most styles of hooked rugs. Though a few of my friends seem to feel I have a thing for roses right now.

What's your favorite part about hooking a rug?
Seeing the design come to life, just like creating a painting, is my favorite part of hooking.

What's a piece of advice you'd give to a new rug hooker?
Seek out resources like Rug Hooking Magazine and other rug hooking publications for inspiration and instructions. And attend a rug camp if you can—you'll learn from not only your teacher, but from exposure to all the creativity that surrounds you.

What do you love most about Celebration?
I appreciate that with access to Celebration, I reap the benefit of exposure to art otherwise unavailable to me. I'm always amazed at what I see in Celebration.

Table of Contents
Her Night Out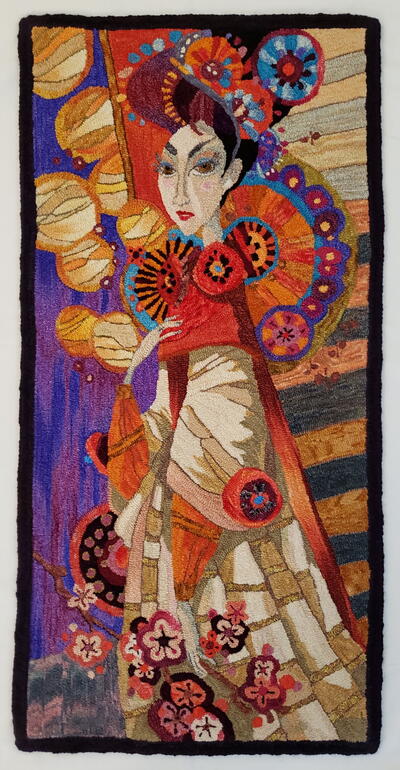 Her Night Out, 18½" x 37½", #3-cut hand-dyed wool, wool yarn, metallic ribbon, silk fabric, and other synthetic fabrics on monk's cloth.
Designed by David Galchutt and hooked by Terryl Ostmo, Wahpeton, North Dakota, 2022.

I found this design challenging at all times. The design is intensely detailed. I found it best to focus on one small area at a time. The end result, a feast of color and finely executed detail, made the effort worthwhile. I proved to myself I could do it. It gives me pleasure to look at its beauty.
 
Burnham Floral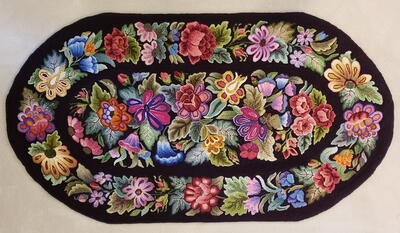 Burnham Floral, 32" x 58", #3-cut hand-dyed wool on monk's cloth. Designed by Jan McGown Flynn and hooked by Terryl Ostmo, Wahpeton, North Dakota, 2021.
 
Cattails and Dragonflies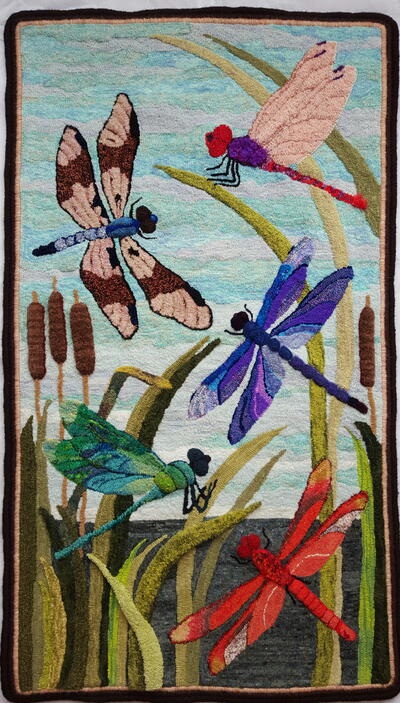 Cattails and Dragonflies, 24" x 42", hand-dyed wool yarn, polyester sheer fabric, nylon stockings, metallic threads, velvet yardage, and silk sari ribbon on rug warp. Designed by Norma Batistini and hooked by Terryl Ostmo, Wahpeton, North Dakota, 2016.
 
YOUR RECENTLY VIEWED ARTICLES
Free tutorials, expert tips, exclusive partner offers, and more straight to your inbox!