Tricia Tague Miller: Class of 2019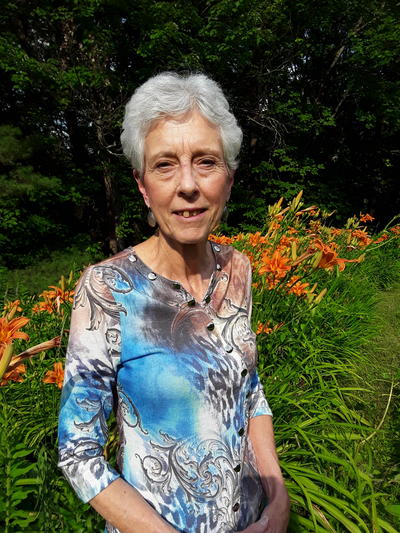 Name: Tricia Tague Miller

Location: Alstead, New Hampshire

Tell us a bit about yourself.
Living in rural New Hampshire presents many opportunities for hiking, kayaking, and exploring the natural beauty that surrounds us. Having a canine companion daily motivates one to get out there despite the New England weather! Animal behavior is a long-term interest and anticipating a new pup, I'm relearning clicker training methods. Rug hooking is foremost as my handwork hobby, but I also dabble in crochet. Since I regularly attend continuing education classes through the local college, new interests keep emerging. Right now "Harry Potter as Sacred Text," one of these college courses, is expanding my perspective of spirituality and human development, other major life interests of which I made a career.

How did you get introduced to rug hooking?
Frazier's Rug Hooking store was on my route to work when I lived in Hebron, Connecticut. Curiosity lured me in. There I was given a quick lesson of how to hook and went home with a hook, wooden hoop, a small pattern, and wool already cut in #3 strips. A week later I returned, finished project in hand and signed up to start taking weekly classes with Viverly Powers.

What was your first project?
My first project was 12" x 17" rectangle with a stylized rose in the center field with bars and squares around the perimeter.

Is there one rug that stands out as being particularly memorable?
Winter's Roost for the challenge it presented to hook in the details that made the cardinal a beauty.

Is there a particular style of rugs that you're most interested in hooking?
I am partial to the use of the #3 cut for the detail, shading, and challenge it offers.

What's your favorite part about hooking a rug?
The favorite part for me is the realization that the finished piece represents the circle of beings who participated in its creation from the very sheep themselves and all those involved in the making of the monk's cloth backing, wool fabric and dye, the designer, the teacher if there was one, to the friends and husband who gave feedback and encouragement.

What's a piece of advice you'd give to a new rug hooker?
A beginner needs guidance, which can save one a good deal of frustration and expense. Having the correct tools and receiving lessons are especially helpful so that hooking becomes a fun and rewarding experience .

What do you love most about Celebration?
A synonym of "celebration" is "a salute to." Celebration gives a salute to those who have done work that has been judged to deserve recognition. How wonderful for there to be something in print that does so especially in times that the negative has become, over time, more in the media's focus.
Table of Contents
YOUR RECENTLY VIEWED ARTICLES
Free tutorials, expert tips, exclusive partner offers, and more straight to your inbox!