Crewel Firescreen
By:
Mary McGrath, Celebration Hall of Fame 2018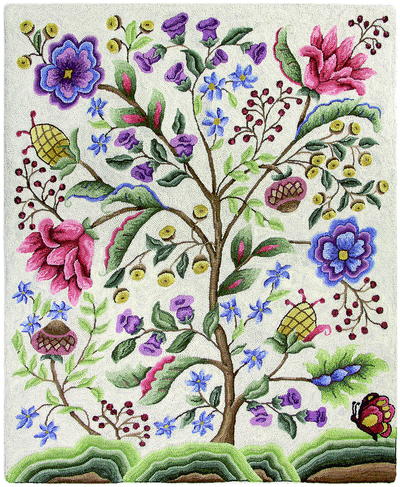 Dimensions: 28" x 34"
Materials: #3-cut wool on monk's cloth
Pattern by Jane McGown Flynn and hooked by Mary McGrath, Eagle, Wisconsin, 2012. Photo by Michelle Adamski—Arts Cameras Plus.
Featured in: Celebration XXIII

"I had been dreaming of attending a rug camp for years, but trying to work it into my busy life with a full-time job and 3 young children was a challenge. I am blessed to share my life with a wonderful husband, and he was supportive of my desire to attend a rug camp, even if it meant he would have to pull double duty at home. Once I sent in my registration, I realized I had to come up with a project. My instructor Joyce suggested I choose either a floral or a face to work on with my instructor Carol Kassera. Having finished Winter Hunt in the not-so-distant past, I was not really on board with either choice. I couldn't see myself spending 4 days working in a fine cut. My compromise: a crewel pattern. Crewel Firescreen had the fun and whimsy I loved without being too realistic. Little did I know I would spend 2.5 days absolutely lost as I tried to grasp shading values, and when it was appropriate to mock shade vs "finger" shade. I just kept plugging away at it and kept thinking how am I ever going to take this project home and work on my own.

But as the end of Wednesday came, I started to actually "get it." I couldn't believe I had actually hooked a flower in fine cut and shaded it—and much to my amazement, it actually looked like a shaded flower. I still remember taking the piece home and being so scared to work on it. I had zero confidence in my new-found fine-cut skills, but little by little, I pushed myself to work through each motif in the rug with the recently acquired knowledge guiding me. That was where I learned—by working on this piece gradually, evaluating my completed section after each hooking session, sometimes sitting back down and reverse hooking and rehooking until I was satisfied with the results. Slowly I fell in love with fine cuts through the development of this rug. I will forever be grateful to my instructors Joyce Krueger and Carol Kassera for helping me build the foundation of working in fine cuts. It was from this rug that I developed confidence in myself as an artist. And it was from working on this rug that a spark to seek the next challenge was ignited. I became a fine-cut artist."
- Mary McGrath, Celebration Hall of Fame 2018
YOUR RECENTLY VIEWED ARTICLES
Free tutorials, expert tips, exclusive partner offers, and more straight to your inbox!