Rug Hooking Week 2015
19th Annual Rug Hooking Week at Sauder Village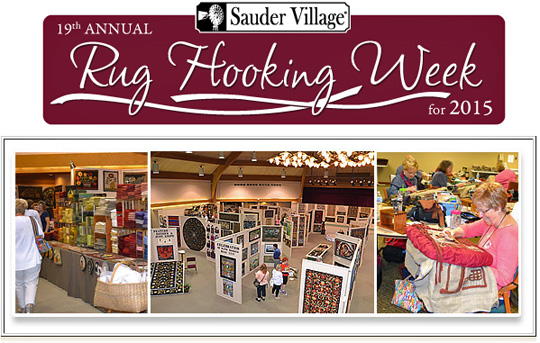 Rug Hooking Week 2015
Back in the fall, as I was gathering Rug Hooking Week information from this year's teachers, exhibits, and vendors for our website, I thought that we might just burst at the seams with all we have in store for this coming August.

Let's start with our teachers and over 30 classes. If you have never pulled a loop or if you are an award-winning artist, we have fun, creative, inspiring, and skill-building workshops, retreats, lectures, demonstrations, and gallery talks lined up for you. This year's teachers include  Stephanie Allen-Krauss, Katie Allman, Anne Bond, Burma Cassidy, Judy Carter, Lori Cravens, April DeConick, Susan Feller, Kathy Graybill, Nola Heidbreder, Jill Holmes, Jayne Hester, Donna Hrkman, Mariah Krauss, Lori LaBerge, Gail LaPierre, Evelyn Lawrence, Nan Loncharich, Lisanne Miller, Elizabeth Morgan, Lanna Omlor, Linda Pietz, Suzi Prather, and Alice Strebel.

The vendors fill their booths with every little rug hooking thing you could ever want or need, plus a few fun fiber art related items that you just can't live without. 

Exhibits
Patricia Herr, curator of this year's feature exhibit, Pennsylvania Hooked & Handsewn Rugs 1850–1950, has gathered an outstanding collection of antique rugs for you. Patricia says, "Whether the maker used an eyed needle or a hook, the results are stunning." Techniques include hooking, cross-stitch, and appliqué, while materials vary from cut cloth strips and motifs to yarn and thread. Original, commercial, and shared designs take in motifs that were common to everyday life in the region and can be seen in this collection.

The contemporary work of Judy Carter and a tribute to Maryanne Lincoln are two more featured exhibits. Judy Carter has hooked more than one hundred pieces since 1993, won numerous awards, collaborated on the Eye See You projects, and authored the book Hooking Animals. Judy's exhibit incorporates a wide variety of styles from her early work through her most recent—from wide cuts, florals, geometrics, and pictorials to her stunning animal portraits.

Maryanne Lincoln was a professional colorist and leading authority on color and dyeing. She taught hundreds of students, wrote many articles, produced dye books, and hooked hundreds of rugs in her career. Her talents have impacted and influenced many rug hooking artists. Maryanne's exhibit encompasses subject matter from almost every genre, both commercial and original in design. She professed, "Color is the magic ingredient of rug hooking."

The special exhibit, A Year Long Study, by Susan L. Feller, is a compilation of her sketches and fiber compositions, one for each day of the year. The goals of this nnovative  collection included improving skills in manipulating fiber techniques, drawing, dyeing, learning new skills, and using different materials. 

And, of course, the 25th-anniversary exhibit of Celebration of Hand-Hooked Rugs. The national and international finalists and honorable mentions will share their award-winning works.

Group exhibits are always popular. This year they include works from the Plein Air Hooking Artists, "Sea Joy" poem by Jacqueline Bouvier Kennedy project, and Tribute project, just to name a few.

In addition to the exhibits, classes, and vendors, the week offers a "Document Your Rugs" project, an ever popular evening hook-in, book signings, People's Choice and Sauder Awards, and much more. So come join us for a fun-filled week, August 10–15, 2015, where everything is within walking distance and the setting is the lovely and historic Sauder Village.

This article is from the March/April/May 2015 issue. For more information on our issues, check out our issues page.
YOUR RECENTLY VIEWED ARTICLES
Free tutorials, expert tips, exclusive partner offers, and more straight to your inbox!