Land of Liberty
Hook a patriotic landscape
Updated February 07, 2018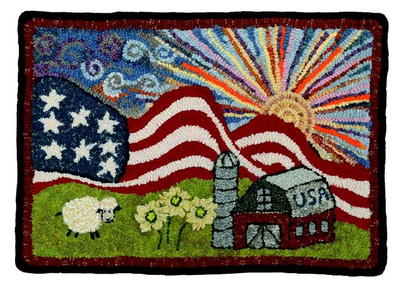 Land of Liberty, 20" x 14", #8-cut wool and yarn on linen. Designed and hooked by Janine Broscious, Monrovia, Maryland, 2016. 

While feeling patriotic one day, I decided to hook a piece to show my love for this great country. I thought of the many patriotic rugs I have seen in the past and wondered what I could design that would be different. I was visiting my son and his family in the middle of farm country, and the song, "This land is my land, this land is your land . . ." was floating through my mind. My granddaughters wanted me to draw and color with them. I began drawing a farm with hills behind it. Before I knew it, the hills became our beautiful flag. I loved it! I was eager to hook what I thought showed that this land is "Our Land" and one that we all have a great responsibility to love and care for.
As I was drawing, a little sheep and some big flowers popped onto the page. I decided to make this design a bit more primitive than my usual work, with objects sized out of proportion and colors more quiet than my usual bright palette.
HOW TO HOOK LAND OF LIBERTY
It is best to start by hooking the outline of a piece. I however, have a difficult time making myself do that—I always want to jump right into the fun stuff. But I made myself hook the outer edge in a lovely dark red in a #8 cut. To avoid having ends meet at the corners, I started hooking in the middle of a side.

I hooked the star field. In order to make it stand out more, I outlined the blue area in a shade of blue darker than what would be used inside the field. Next, I outlined a star with the blue field color and filled it in with off-white that would be used for the stars and the white stripes. Don't worry if the stars become a bit wonky. Think of how hills look like waves and realize that the stars should look misshapen.

I hooked barn and silo outlines in #4-cut. I recommend that you hook the barn and silo before hooking the stripes of the flag because it will be easier to hook them first.

The upper part of the roof appears lighter than the lower part because of how the light hits it. After hooking "USA" in the blue of the star field in #4-cut strips, I hooked around them in a gray plaid with #6 cuts. I hooked the upper part of the roof in a slightly lighter shade of gray to mimic reflected light.

Next, I outlined the doors and windows with #3-cut strips of dark brown. I filled in the windows and doors with gray plaid and hooked under the roof in the front with a dark gray plaid. I hooked the rest of the barn in dark red, the same red I used at the outer edge.

I considered using shading to make the silo appear more circular, but decided on a more primitive approach. After outlining the silo, I hooked the bottom part in one gray plaid, and then hooked the roof in a lighter shade of gray. Make sure the lines in the roof are curved to give the rounded effect.
 
Next, I hooked the red and white stripes. I ran into a problem with my design at this point. There was no way that I was going to fit all thirteen stripes on these hills, so I looked at a flag and saw that it needed to have red stripes on the top and bottom to look right. What I didn't notice was that a white stripe is directly under the blue star field, not red.

Mid-hooking, I had to redraw the stripes to incorporate a white stripe under the blue, while still having red on the bottom. It pays to study the details of your subject! When the striped hills were hooked, I began to feel really patriotic.

Next I hooked the sun. I wanted it to look like a sunrise with light breaking through the darkness. The lines, "O beautiful for spacious skies, for amber waves of grain" and "God shed his grace on thee," filled my mind as I endeavored to make a beautiful rising sun and brightening sky. They represent the continual hope of freedom in our country.

I hooked the ball of the sun in stripes of textured yellow. The rays were hooked in many sunrise colors: mauve, purple, pink, yellow, orange, and light blue. I liked the effect! I wanted some clouds being chased away by the sun, so I drew swirls. I hooked those clouds in various colors: lighter values close to the sun and darker values toward the outer edge. I hooked the rest of the sky in darker blue and mauves, purples, and oranges from the sun rays, again using darker shades the further I got from the sun. I decided the sun rays were too bright, so I removed some of the bright rays and replaced them with the dark blue of the sky, and it was perfect!
PRODDY FLOWERS
My big, out-of-proportion flowers were next. While shopping at a nearby rug hooking store, I had this pattern with me looking for wools to use. Another customer admired my pattern but negatively commented on the oversized flowers and sheep. This made me wonder if I should resize them to look more appropriate. But that was not the effect I wanted, so I continued on with my vision for the piece. That can be difficult, but it is necessary to be able to express yourself through art. Sometimes, others' input is just what I need to help me find my vision, but other times, I need to tune those opinions out.

So, back to the flowers. I had not yet tried any proddy in my pieces. I had admired this three-dimensional technique, but I didn't have a proddy tool and didn't know how to do it. I looked it up in The Rug Hooker's Bible by Gene Shepherd, published by Rug Hooking magazine. I also watched Gene Shepherd's video online about three-dimensional hooking. Even though I don't have a proddy tool, I decided to try it anyway. First, I hooked the flower centers with #6-cut strips. Then I tore yellow textured wool into strips about an inch wide. I followed Gene's instructions for making mustache- shaped pieces for flower petals. It was easy to use my biggest hook to bring one end of the flower petal up to the surface of the linen. Then I moved over just a few threads and brought up the other side of the petal. The textured wool frayed a bit, but I loved the effect. After putting in the petals, I worked a dark green ring between the center and petals. That really set off the flowers. I used the same dark green wool for flower stems. I recommend watching Gene Shepherd's excellent video on the RHM website.
HOOKING THE SHEEP AND THE GRASS
Next, it was time to hook my wooly sheep. I wanted a three-dimensional effect here as well, so I rummaged through my yarn stash and found chunky yarns in two different off-white shades that were perfect. First, I outlined the face and hooked the ears, feet, and tail in dark brown #4 cuts; I used #3 cuts for the eyes and mouth. Oatmeal-colored textured wool was used to fill in the face and outline the body. I hooked both colors of yarns together, pulling the pile higher than the rest of the design. I also gave the sheep a fluffy topknot.

I used a green plaid wool for the grass. The plaid was subtle, and I thought it needed another wool mixed in. I tried hooking several wools with the plaid, but the result was too busy--grass is not the main part of the design, and I didn't want it to shout for attention. I finally used my original piece of wool hooked higgledy-piggledy, continually turning the hook to ensure no obvious line of hooking. This gave just enough variation in the grass to keep it interesting and yet not overwhelming.
FINISHING
Finishing a rug is often the hardest part for many of us to complete. I must admit that having an article deadline helps me! But I am finding that even though I like the hooking part the most, I am beginning to enjoy whipping the edges too. It's the perfect chore for when you don't want to think much or aren't feeling up to planning colors or making decisions. I hooked a second dark red line around the piece, cut off the excess linen, and serged it. After folding the linen in half twice, I used clips to hold it in place. I used black Halcyon yarn to whip the edges.

Another song runs through my mind as I look at this little rug. I think of my elementary school days in Pennsylvania; each morning we pledged allegiance to the American flag and then sang a song. I remember gazing up at the portrait of our first president while singing four verses of "My Country 'Tis of Thee, Sweet Land of Liberty." This little rug swells my heart with "From every mountainside, let freedom ring!
Janine Broscious is surrounded by inspiration. Since her mind is always in a whirl of design ideas, she spends each free moment working on rug patterns or making jewelry. Family and travel inspire her more and bring great joy. Her art is available at www.gentlespiritcreations.com.
Land of Liberty, © 2016, Janine Broscious. Enlarge by 230% for a rug 20" x 14". For one time personal use only. 
Tags / Related Topics
YOUR RECENTLY VIEWED ARTICLES