Helen Mar Parkin: Class of 2023
Updated June 27, 2023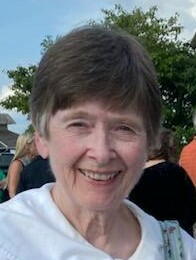 Name: Helen Mar Parkin
Location: Lindale, Texas

Tell us a bit about yourself. What are some of your interests and hobbies?
I have tried many different types of fiber arts, including crochet and embroidery, anything that involves working with my hands and playing with color. I also enjoy reading, listening to music (classical, folk, jazz), and volunteering with an organization that helps injured and orphaned wildlife. I play piano and hammered dulcimer, although I'm a little rusty at both.

How did you get introduced to rug hooking?
After college and graduate school, I worked for 40 years as a conservator of paintings. When I was thinking about retirement, I looked around for something that would engage my interest as much as painting conservation had. I took a beginner rug hooking class in my town and was hooked immediately! Rug hooking involves hand-eye coordination, working with color, attention to detail, and problem solving, all of which I had enjoyed when I worked on paintings. In addition, hooking allows me to be creative. I can finally be an artist after years of being an anonymous craftsman.

What was your first project?
My first project was a starfish pattern by Deanne Fitzpatrick, very bright and colorful. My teacher encouraged me to pull my loops high and work in an impressionistic fashion. From there I moved into wide-cut primitives, then finally into fine cuts, once I began the McGown Teacher Training program. I'm amazed when I look at my first projects to see how much my work has changed.

Is there one rug that stands out as being particularly memorable?
I would have to say Canadian Snow Geese, a pattern by Jane McGown Flynn, is the most memorable. When it was assigned to me as a monochromatic Show and Tell at Teachers' Workshop, I had no idea how to approach it. It wasn't until I had chosen an overall color and figured out a backstory for the rug that I began to enjoy the process. Then every detail became part of the story, whether it was the dark, turbulent sky suggesting an impending storm, the footprints of the geese in the snow, or the snow-covered field and barn in the distance. All signs let the viewer know that the geese would find no food but must fly south. I became emotionally involved in creating the story of the hungry geese, and that made it a wonderful experience.

Is there a particular style of rugs that you're most interested in hooking?
I like all styles of rugs. In my own work, I prefer traditional methods, usually (but not always) with fine cuts, mixed with fibers and other materials, such as buttons and beads. I'm fond of florals, geometrics, pictorials, and William Morris wallpaper patterns.

What's your favorite part about hooking a rug?
Of course, I enjoy color planning and solving problems, as I mentioned, but my favorite thing to do is to create something unexpected in a rug, something that might make you look closer and say, "Oh, my goodness, how did she do that?" Adding unusual things to the design or the color plan keeps me interested throughout the process. For me, it's all about the process.

What's a piece of advice you'd give to a new rug hooker?
Don't try to teach yourself this craft. Find a teacher and discipline yourself to learn the basics, then find your own style and rhythm. It's okay to break the rules once you know what they are.

What do you love most about Celebration?
I am always amazed by the beautiful and innovative rugs I see in Celebration. They are truly some of the finest rugs in the world. They inspire me to try things I never thought of doing.

Table of Contents
Vincie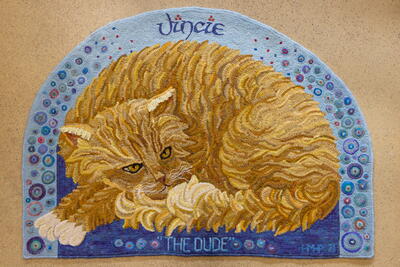 Vincie, 41½" x 29", #4- to 8-cut hand-dyed and as-is wool on linen.
Designed by Harry Fraser Company and hooked by Helen Mar Parkin, Lindale, Texas, 2021.

This rug is a tribute to a beloved cat. I was inspired by a rug hooked by Carla Fortney, entitled Buster, that I saw at the ATHA Biennial in 2015. Carla's rug, in turn, was based on a pattern called Cat Half Round, offered by the Harry Fraser Company in their 1994 catalogue of Keepsake Patterns.
 
Sunset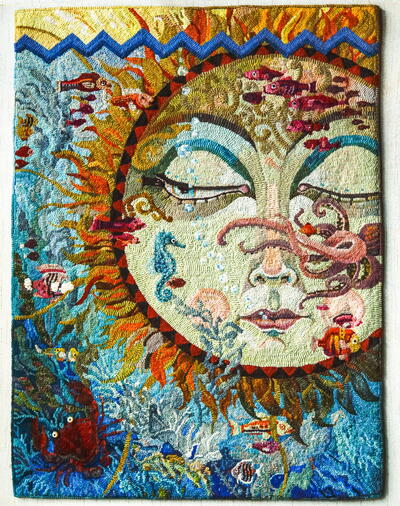 Sunset, 24 ½" x 32 ¼", #3- to 6-cut hand-dyed wool, sari silk, and ribbon on rug warp, embellished with old buttons and beads. Designed by David Galchutt and hooked by Helen Mar Parkin, Lindale, Texas, 2020.
 
Canadian Snow Geese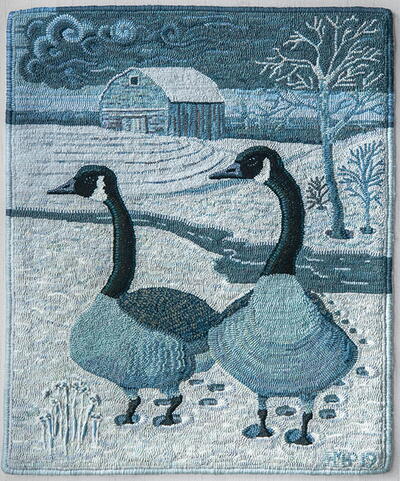 Canadian Snow Geese, 20" x 24", #3- to 6-cut hand-dyed and as-is wool, with a small amount of nylon hosiery fabric, on linen. Designed by Jane McGown Flynn and hooked by Helen Mar Parkin, Lindale, Texas, 2019.
 
YOUR RECENTLY VIEWED ARTICLES
Free tutorials, expert tips, exclusive partner offers, and more straight to your inbox!