Lynne Howard: Class of 2023
Updated June 27, 2023
Name: Lynne Howard
Location: Calgary, Alberta
  
Tell us a bit about yourself. What are some of your interests and hobbies?
I love being outside. My activities, which used to include running, mountaineering, skate-skiing, biking, and kayaking, have been downgraded to walking, hiking, easier biking, and skate-skiing trips and kayaking with a Hobie TI. Rug hooking usurped my other fiber arts interests for decades, but I'm hoping I can pick some of them up again in retirement.

How did you get introduced to rug hooking? 
My friend Carol McDuffie, an American living in Calgary, introduced me to rug hooking. The rest is history.

What was your first project? 
A very crude maple leaf drawn on burlap secured on a hoop. I used a very inexpensive hook and the most awful shrunken hand-knit sweater for the background. I'm surprised my arm survived the experience. It taught me the basics and lives on as a chair pad.

Is there one rug that stands out as being particularly memorable?
Two actually stand out: Marie Stoker by Lib Calloway and Gabbeh, designed by Jane McGown Flynn. The story rug was such fun—I'd enjoy doing it again.

Is there a particular style of rugs that you're most interested in hooking?
My favorite styles: wide-cut primitive flower rugs and story rugs. I like whimsy and big cozy loops, and, of course, color.

What's your favorite part about hooking a rug?
Color planning and dyeing the wool.

What's a piece of advice you'd give to a new rug hooker?
Learn from the conventional wisdom of past hookers. One doesn't need to make all the mistakes oneself. It is good advice to choose the background first, then one is better able to develop contrast through hue, value, intensity, and temperature. Rug hooking offers a lifetime of learning. That's what makes it so interesting.

What do you love most about Celebration?
The color photos, of course! But I do enjoy learning something about the great variety of rug hookers as well.
 
Table of Contents
Marie Stoker
Marie Stoker, 10' x 8', #6- to 8-cut hand-dyed, repurposed, and off-the-bolt wool on burlap. Designed by Lib Callaway and hooked by Lynne Howard, Calgary, Alberta, 2020.

I began hooking this rug primarily with repurposed woolens, as that was what was available to me. But as the years went by, I became interested in dyeing wool and began acquiring interesting off-the-bolt textures.
 
The Catastrophe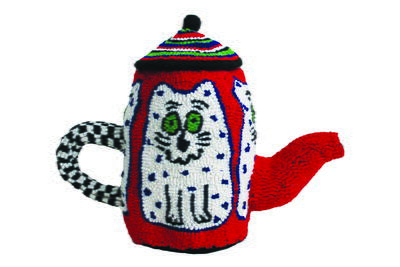 The Catastrophe, 16" x 11", #4- & #5-cut hand-dyed and as-is wool on linen. 3D teapot shape designed by Holly Kingdon, artwork designed and hooked by Lynne Howard, Calgary, Alberta, 2017.
 
Zen Doodle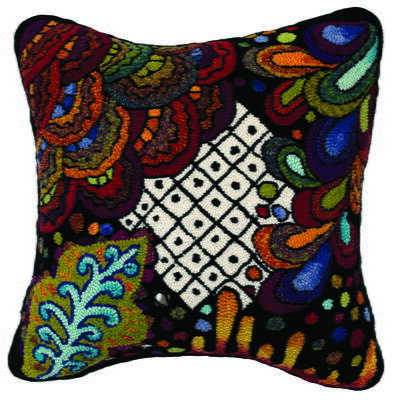 Zen Doodle, 19" square, #3- to 4-cut hand-dyed and Dorr ombre wool on linen. Designed by Jan McGown Flynn and hooked by Lynne Howard, Calgary, Alberta, 2015.
 
YOUR RECENTLY VIEWED ARTICLES
Free tutorials, expert tips, exclusive partner offers, and more straight to your inbox!