Destinations: TIGHR Triennial 2018
Returning to our roots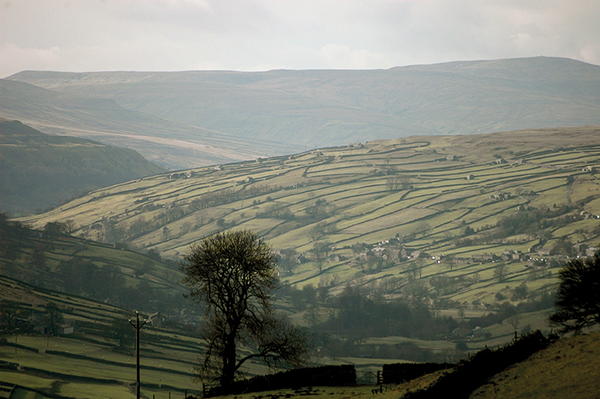 Swaledale, location of 2018 TIGHR. Come and join us!

TIGHR, The International Guild of Handhooking Rugmakers, appoints a new board every three years and holds a meeting, a Triennial, to mark the handover. The English Board for 2016 – 2018 is based in Reeth, a beautiful little market town in Swaledale (the most northerly dale in the county of North Yorkshire), which is where Heather Ritchie, TIGHR President, lives and works. Plans for the 2018 Triennial are well advanced and interest from members is high.

That's little wonder when you know what's in store for the lucky rugmakers who will attend the four-day event. It starts on Monday, October 8, and ends on Thursday, October 11, and while we can't tell you everything about it here, we hope we can whet your appetite.

On Monday, as TIGHR members arrive from all around the world, we are holding a traditional Yorkshire-style meet-and-greet—a joyful mix of live music, Yorkshire tea, fruitcake, and Swaledale cheese, in the 900-year-old St Andrew's Church in Grinton. This imposing and beautiful Norman building is where the carefully organized and constantly curated rug exhibition will be held over the next three days. It will be open to members of the public, and local school children will visit the exhibition to have a go at hooking or prodding.

A selection of pre-bookable classes will be held in a variety of interesting venues on Tuesday and Thursday. But this Triennial is about so much more than the classes, and you will find lots to do even if you decide not to join any of them. Catching up with old friends, making new friends, taking time to sit and hook and chat—all of this will be an integral part of this Triennial.

To make sure everyone can enjoy this shared time, there will be a drop-in hooking center in the dining room of The Buck Hotel, open from breakfast to bedtime every day. Every rughooker attending the Triennial is invited to sit and hook while chatting to fellow rugmakers, or to buy something from one of the range of pop-up shops.
YOUR RECENTLY VIEWED ARTICLES
Free tutorials, expert tips, exclusive partner offers, and more straight to your inbox!