Remembering ... Celebration XXI!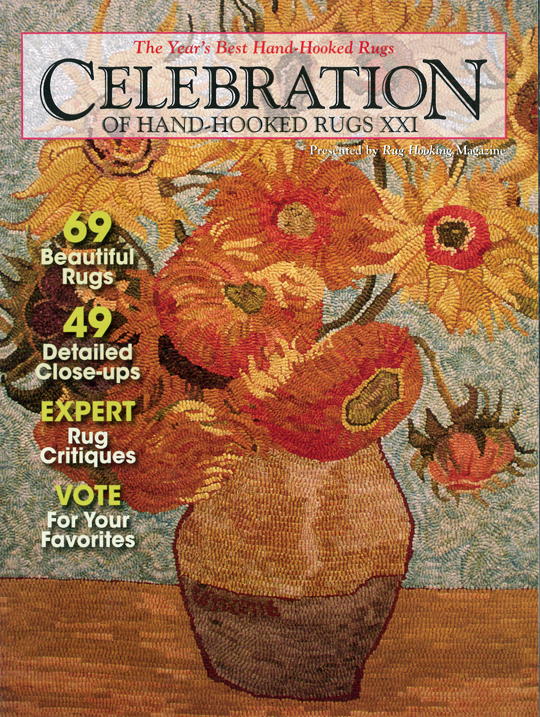 Remembering Celebration XXI
The year is 2011, and RHM/Celebration editor Debra Smith reminds us of the lasting value of this annual book:

"It documents and preserves your pieces for generations to come. Decades from now—perhaps even into the next century—textile artists, your descendents, and all who love beautiful work will see these masterpieces." We're so honored to be a part of keeping the legacy alive.

Celebrating the rug hooking textile artists of Celebration XXI!

Sheryl Alexander - Sidewalk Jungle
Jeanne Benjamin - Chi Chi
Wayne Bressler - Phoenix Rising
Corrine Bridge - Osiris
Vicki Calu - Jump for Joy
Judy Carter - Hunter
Debbie Clement - Forever Plaid
Jaci Clements - Oriental
Grace Collette - Peace
Susan Cunningham - Jazz for the Night Owls
April DeConick - Lady Sunset
Erika A. DeCree - Heat Wave
Nancy Diegel - Square Harmony
Lyle Drier - Fungi I
Doris Eaton - Petite Riviere
Susan L. Feller - Mountain Treeline
Heather Fox - A Single Flower
Lona Gabree - November
Donalda (Donna) Gass - Clovelly
Beth Ann Gibbs - Love on the Meadow
Susan Grant - Shah Abbas
Linda Green - The Happy Hoofer
Suzanne Gunn - To See the World in a Grain of Sand
Cheryl Halliday - My Lissa
Kathleen Harwood - Feather Hearth Rug
Karen Haskett - New Fruit Bell Pull #218
Chizuko Hayami - Mae Morris
Jo Ann Hendrix - Where's Rudolf
Berniece Herron - Ginny B
Donna Hrkman - Veterans Day
Victoria Hart Ingalls - Mama Longhorn
Capri Boyle Jones - Fishing Day
Sara Judith - Island Sunrise
Kim Kaelin - Hooking for Habitat Cube
Karen Kahle - Magic Carpet Runner
Sally Kerr - Van Gogh's Twelve Sunflowers
Joyce Krueger - Snowmen Fall from Heaven Unassembled
Melody Lavy - Imperfect Sunflowers
Rachelle LeBlanc - Slumber
Diane Luszcz - Pris' Padulas
Helen Lynch - Jefferson Davis
Karen Maddox - Girl in a Straw Hat
Mary McGrath - Winter Hunt
Cheryl Meese - Persian Miniature
Susan Minorini - Sultan
Fritz Mitnick - Mighty Moose
Susan Naples - Waging Peace, Fighting Disease, Building Hope
Roland Nunn - Bighorns
Nancy Z. Parcels - Large Frost Oriental
Angela Possack - Full Bloom
Frances Rendon - My African Ladies
Lelia F. Ridgway - Birds of Sarouk
Judith Rippstein - Rustic Wreath
Hildegardt Sawyer - A Memory of the Baltic Sea
Pamela Schmelzle - Mandarin Riches
Cathy Sears - Jungle Cat
Ann T. Sheedy - Vermont
Liz Smith - Merry Christmas
Rochelle Stibb - Majestic Moose
Jeanne A. Sullivan - Teec
Gillian Tomkins - Sleuthing
Simone Vojvodin - Friends on the Rock
Jill Walker - Saraphina
Deborah Walsh - Some Old Something New
Mary Beth Westcott - Free Spirits
Karen Whidden - A Sunday Afternoon on the Island of La Grande Jatte
Lonnie Williams - Cat and Bird
June Willingham - Zereh
Jan Winter - 1885 Horses
YOUR RECENTLY VIEWED ARTICLES
Free tutorials, expert tips, exclusive partner offers, and more straight to your inbox!