Remembering ... Celebration XXII!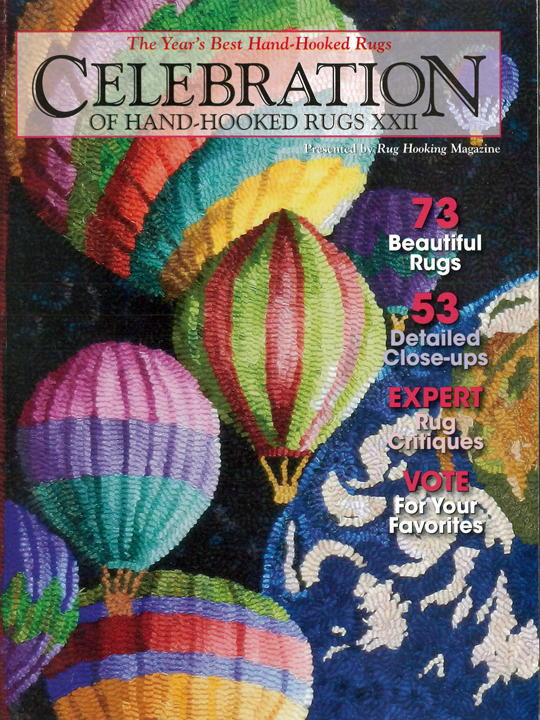 Remembering Celebration XXII
Here we are in 2012—a year in which we received more entries from Texas and California than from any other location. A busy year for rug hookers in the Southwest and West Coast! And rug hookers all over the world had the chance to admire and learn from their work in this issue.

Here's to the artists from EVERYWHERE in Celebration XXII!

Norma Batastini - Antique Heart in Hand Redux
Jeanne Benjamin - Anatolian
Halina Bienkowski - Couldn't a Fire Outrun a Galloping Horse?
Cheryl Bollenbach - Remembering Spring
Anne Bond - Kristen in the Adirondacks
Kay Bowman - Sylvia
Connie Bradley - For Your Love
Bea Brock - Summer Winds
Crystal Brown - Shenandoah Valley Eagle
Judy Carter - Southern Leopard Frog and Tri-colored Heron
Cec Caswell - Delightful Friends
Natasha Chan - Halloween Hooligans
Jon Ciemiewicz - Turtle Reflection
Judy Cole - With Closed Eyes
Grace Collette - Geronimo
Judy Colley - Victorian Garden
Ivi Nelson Collier - Sorrow
Janet T. Conner - Palazzo Di Piero
Leslie Cuthbertson - Grenfell Goose
Lyle Drier - Fantasy Flight
Gail Ferdinando - Animal Crackers
Ellen Forstrom - Pemaquid Lighthouse
Carol  Lynn Gillingham - Eden's Floor
Carolyn Godfread - Somewhere Over the Bakken (in the Badlands of ND)
Janet Griffith - Jumbo Star
Suzanne Gunn - Sable Island Horse No. 1
Linda Gustafson - Leaf Border Geometric
Chizuko Hayami - My Labs
Teresa Heinze - Yankee Ingenuity
Jo Ann Hendrix - Rugs by the Sea
Susan Higgins - Unbridled
Mischelle Page Hodgkin - The Beauty of Keith Richards
Bernice Howell - Gold Hill, UK
Donna Hrkman - Indian Boy--Ah-Chee-Lo
Weslee Hursh - Shippee Floral
Debra Inglis - Elaine's Antique Runner
Cindy Irwin - Dad
Ellen M. Jensen - 8-Cut Rose
Trish Johnson - Patrick and Logan at Balsam Lake: Summer of 2009
Carol Kassera - Chocolate Chip
Carol Koerner - Still Life #8--The Bowl of Onions
Kerri Kolbe - Hellebores
Mariah Krauss - Ares Woman
Mary Jo Lahners - The Grand Canyon
Caryn Linn - Caryn's Passion
Anne-Marie Littenberg - Toolbox
Betty Magan - Bonneville 200 MPH Club Life Member
Cora Maldonado - Oliver Cromwell
Liz Marino - Fraktur Chair, 2012
Kris Miller - Midnight Clear
Kaye D. Miller - Crow
Sheila Mitchell - American Kestrel
Phyllis Mulligan - Alamo Garden
Cynthia Norwood - Distelfink
Ronald C. Nunn - Lake Shore
Fran Oken - Cape Shore Crewel
Wendy Powell - Four and Twenty Blackbirds
Katy Powell - Beauty and the Beast
Susan Quicksall - Noah's Ark Sampler
Judith Rippstein - Mr. "GQ"
Jackie Roop - Hawa
Sunny Runnells - My Happy Captain in Metz
Marion Sachs - Tuhay
Joan Sample - Seasons of the Heart
Eric Sandberg - Wedding Dance
Sharon Stapleton - African Dreams
Pam Upton - Newfoundland Lion
Corinne Watts - Swamp Critters
Georgeanne Wertheim - Remember
Karen Whidden - La Japonaise
Laurie Wiles - Peace, Love and Dan
Cathy Williams - Daghestan Prayer Rug
Jan Winter - Pennsylvania
Michele Wise - Ram Tough
YOUR RECENTLY VIEWED ARTICLES
Free tutorials, expert tips, exclusive partner offers, and more straight to your inbox!