Remembering ... Celebration XVIII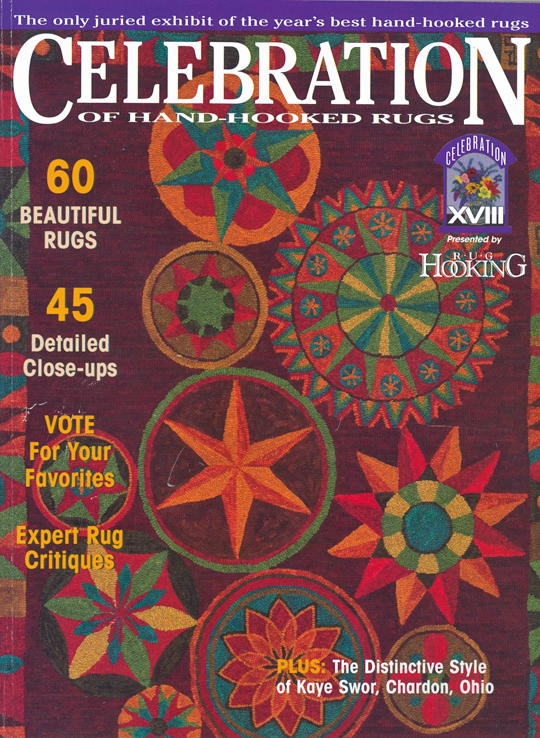 Remembering Celebration XVIII
Each rug has a story. Every story has a depth of meaning. And every one of those stories changes the way each rug is viewed, as well as expanding our appreciation of how "this incredible art form can be used for creative expression." As true now as it was for Celebration XVIII, in 2008! Congratulations to these expressive artists!
 
Patti Armstrong - For They Love Their Children Too
Jeanne Benjamin - Daghestan Prayer
Marian Bigelow - Something Fishy
Wayne Bressler - Yum, Yum … Give Me Some (Dim Sum)
Victoria West Calu - The Gig
Judy Carter - Leopard
Cecille Caswell - Hotel Saloon
Nathsha Chan - Sehna
Judy Colley - The Green Man
Jean T. Cooper - Shalimar
Nancy Crouse - Say Cheese Bell Pull
Susan M. Cunningham - Cat Castle at Sunset
Juanita Darnold - Gently Down the Stream
Shirley Dillard - Wolf
Lillian Lee Eddy - The Stone House
Melissa Elliott - Blue Willow
Lynne Fowler - Reunion on Quince Street
Marilyn Gross - Black Leopard
Suzanne Gunn - Albert Wile–Worm Digger
Marian Hall - 1821 Fraktur
Peggy Hannum - Poppy Seed
Katie Hartner - Tulip Cross with Border
Chizuko Hayami - Changing
Tracy Holmes - Launch Day
Donna Hrkman - Llarry the Llama
Gail Huff  - Ada's Passion
Ellen M. Jensen - The Royal Rose
Trish Johnson - Chris and Blackie–Summer of 1977
Mary Johnson - Mom, Alvin, and Shep
Capri Boyle Jones - The Vine
Sara Judith - Osprey with Kokanee
Peg Kauffman - Wood Chores
Arline Keeling - Pretty Lights
Karen Maddox - Shelburne Museum
Betty Magan - Lor's Pomegranates
Eileen A. Mahler - Antique Pineapple–Through My Eyes
Arleen Mauger - Roche Harbor Tulips in Wool
Wendy Miller - 1842 Watercolor Fraktur
Tricia Tague Miller - Buckingham
Louise Miller - Main Street
Mildred Parks - Big Blue at Sunset
Arlene Phillips - Ancestral Farm 1890
Laura W. Pierce - Emmy
Carol Ann Pinkins - Apple Lady
Chris Preble - Wedding Crock Bouquet
Augustine Raymond - Soumac Medallions
Harriet Ridnour - Minstrel Boy
Linda Rilling - Dreaming the Impossible Love
Arlene Schwen - Museum Bedrug
Madonna Shelly - Barn Symbols
Cheryl Singley - Singley Farm
Beverly St. Clair - Under the Stars
Pat Stangeland - Got Carrots?
Kathy Stephens - Trixie, Dixie, and Peach
Nancy Taylor - Morris Hammersmith
Bobbi Tower - The Journey Through the Mist
Pat S. Van Arsdale - Live, Love, Laugh Out Loud
Karen Whidden - Country Store
 Janine Williams - Little Girl and Bunny
Jan Winter - Calypso
Joan Wray - Van Gogh "Iris"
YOUR RECENTLY VIEWED ARTICLES
Free tutorials, expert tips, exclusive partner offers, and more straight to your inbox!