Remembering ... Celebration XX!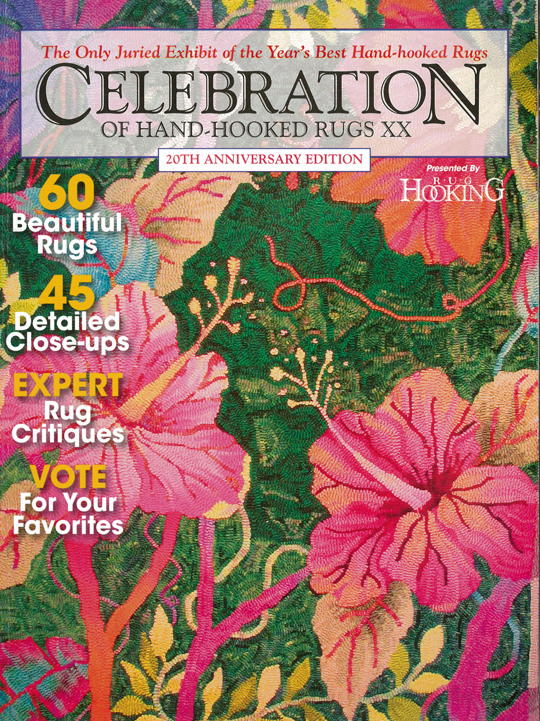 Remembering Celebration XX
It's the 20th Anniverary edition! Celebration of Hand-Hooking Rugs XX welcomes editor Debra Smith and sharpens its focus on rugs as works of art worthy of attention completely on their own, beyond any utilitarian purpose. Flip through this book and you'll find it's nothing less than an art catalog that showcases each work to the best possible advantage. Here's to the artists of 2010!

Debbie Abshier - Taylor Totts
Darcy Baskin - Family Memories
Norma Batastini - Jersey Girls Don't Pump Gas
Anne Bond - 18th Century Bed Rug
Wayne Bressler - Slither
Sandra Brown - Palace Scroll
Cherylyn Brubaker - Morris Crow
Victoria West Calu - Victorian Sisters
Judith Crawford Creamer - Coneflower Footstool: Fairy World
Susan M. Cunningham - Felix Feneon
Sally D'Albora - Battle Creek Cyprus Swamp
Ericka A. DeCree - Mini Fantasy
Sandy Files - Monadnock Moose
Joanne Gerwig - Randi
Jan Grose - First Penguin
Suzanne Gunn - First Born
Linda Gustafson - Sunflowers
Fumiyo Hachisuka - Grandma's
Marian Hall - One Wild Flower
Jane Halliwell Green - Botanical Fantasy
Peggy Hannum - Seven Sisters
Kathleen Harwood - Diamond in the Square
Chizuko Hayami - Japanese Cranes
Fumiyo Heinig - Going Home
Trish Helmer - Morning Reflection
Tracy Holmes - Hitch
Bernice Howell - Anne
Donna Hrkman - Paul Lawrence Dunbar
Trish Johnson - Memories of Oak Point
Sara Judith - Grand Canyon Dory
Juliana Kapusta - The Cutting Garden--Coneflower
Laura Kenyon - Blue Moon
Denise Killingsworth - Winter Oak
Susan Klim - Amagansett
Carol Koerner - Dress Rehearsal
Sharon A. Kollman - Lunenburg
Karen Kelly Larson - A Derby for Rocky and Me
Janet Keller Laughlin - Harmony Along the Delaware
Melody Lavy - Mermaids on Dry Land
Barbara Lekstrom - Nighty Nite Nisse
Anne-Marie Littenberg - How Do I Get From Here to the Rest of the World?
Susan Lounsbury - Spirit
Kathy Matney - The Big Fir
Mary McGrath - Aloysius
Rhonda Mollenkopf - Water Study #1
Roland Nunn - Red Rock
Terryl Ostmo  - King of Hearts
Nancy Z. Parcels - Rick-Rack
Dianne Pepin - In the Orchard
Laura W. Pierce - Oonapais Vineyard
Anne Reeves - Pebble Beach
Patricia Ringston - Daghestan Prayer Rug
Judith Rippstein - Kashan Roses
Elise Roberts - Seasons
Mary Ruelle - Rebecca
Marion Reddy Sachs - Roumanian Convent
Ellen Savage - The Chalfonte
Linda Friedman Schmidt - Contagious Silence
Gene Shepherd - Big Momma
Sally Skinner - Celebration
Sheila Stewart - Claire's Hen Party
Mary Pat Stickler - A Day at the Beach
Gillian Tomkins - Cats & Pineapple
Sharlene Washington - Art Deco Peacock
Corinne Watts - Echo
Karen Whidden - Wild Poppies
Janet Williams - Snowy Woods at Night
Lissa Williamson - Aix Les Bains
Jan Winter - Nostalgia
Joan Wray - Gray & Gold
YOUR RECENTLY VIEWED ARTICLES
Free tutorials, expert tips, exclusive partner offers, and more straight to your inbox!