Donna Hrkman: Class of 2018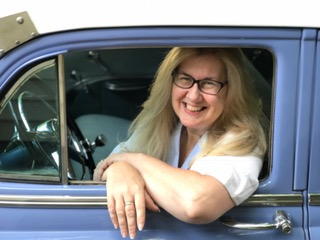 Name: Donna Hrkman
 
Location: Dayton, Ohio
 
Tell us a bit about yourself. What are some of your interests and hobbies?
I've been an artist all my life, so I've explored many types of artistic expression, including drawing, painting, sculpture, and rug hooking. I enjoy reading mystery novels and also scrapbooking. But rug hooking is my true love.
 
How did you get introduced to rug hooking?
My friend Alice Strebel of Kindred Spirits kept telling me that I'd love making hooked rugs. I fought her off as long as I could, but finally caved, and have been hooking rugs ever since. I started with primitive rugs in eight cuts and dull colors but realized that my style would evolve to finer cuts, more realistic colors, and personal expression.
 
What was your first project?
My very first piece was a primitive crow that I drew on burlap and hooked with wool strips I cut from scrap pieces with my rotary cutter. It was as dull as dishwater and very plain, but after pulling a few loops, I knew it was going to be my new vehicle of artistic expression.
 
Is there one rug that stands out as being particularly memorable?
That's like asking if I have a favorite child! I have several rugs that resonate deeply with me, like the Indian Boy and Steampunk Reverie because they essentially represent a level of achievement I'm very proud of. I also love Mother Goose because she was a project that evolved over time. I love the two rugs I hooked of my sons and the one I just hooked of my mother and me. I'm afraid I can't select just one!
 
Is there a particular style of rugs that you're most interested in hooking?
I love hooking detailed rugs in fine cuts, mostly representational rugs that are realistic. I like hooking rugs with a message or cause that means something to me. I usually start with an image or idea that stays with me until I can draw it up and get it on paper as a tangible design. So "realistic and representational" is my style.
 
What's your favorite part about hooking a rug?
Hooking a rug is a process that flows from one stage to the next for me. I love the planning and laying out of the design; it's exciting to put the pencil to paper to construct a visual blueprint of the rug I have in my brain. And I love planning the color layout, whether it's a monochromatic or full-color piece. I love dyeing the wool and having it all neat and pretty, then stripping it up into piles. Then there's the anticipation of pulling the first loops, sort of a nervous excitement in creating a new rug. And working on the rug, establishing the rhythm and flow of hooking, snipping, pulling out, and re-hooking. There are those last inches of space to be filled, then the trimming and whipping with yarn. It's a very satisfying process for me. I love all of it.
 
What's a piece of advice you'd give to a new rug hooker?
Practice, practice, practice, become consistent, and do not be afraid to pull out parts that aren't working. Most of all, hook what you see.
 
What do you love most about Celebration?
As a rug lover, I enjoy seeing a collection of beautiful, creative, original rugs collected in one source every year. As a rug hooker, I always hope that my rug will be included in this prestigious publication and am thrilled when it is. It's an honor to be chosen.
YOUR RECENTLY VIEWED ARTICLES
Free tutorials, expert tips, exclusive partner offers, and more straight to your inbox!