Fritz Mitnick: Class of 2018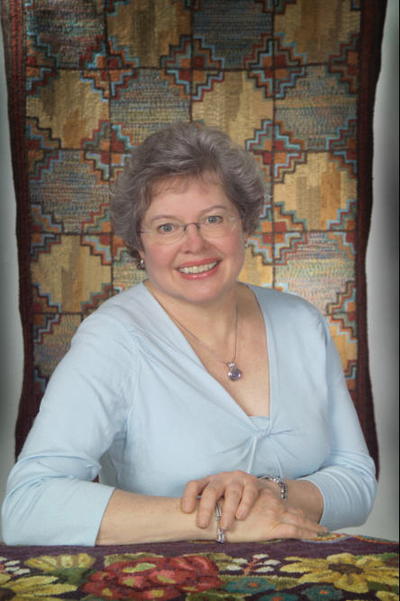 Name: Fritz Mitnick

Location: Indiana Township in Pennsylvania (just outside Pittsburgh)

Tell us a bit about yourself. What are some of your interests and hobbies?
Gardening, pets (favorites are dogs and chickens), cooking, reading, but rug hooking is more than a hobby. It is my way of life.

How did you get introduced to rug hooking?
A woman I knew sold me a ticket for a rug being raffled at a local guild rug show. I marveled at the show, won the rug, and my life was instantly changed.

What was your first project?
I started a simple geometric, but the guild was having a story rug workshop with a teacher from out of town. I signed up and hooked the story of my life on a 2 ft. by 3 ft. rug.

Is there one rug that stands out as being particularly memorable?
Being from a farm in Indiana, Pittsburgh, with its hills, was so exotic to me. I hooked Pittsburgh Nocturne after working on the idea for two years. It is still my favorite.

Is there a particular style of rugs that you're most interested in hooking?
I am particularly attracted to geometrics, but I feel my rugs tell my story and I make more of those.

What's your favorite part about hooking a rug?
To me, rugs are a puzzle to solve, and you have something useful at the end. I love the planning and then the decisions made as you execute your plan. I must add that once the decisions are made and there is just repetitive pulling of loops, I am never bored as I also appreciate the meditative quality of that action.

What's a piece of advice you'd give to a new rug hooker?
Keep your first piece simple. I was nervous doing my first piece and cannot say I enjoyed it. I knew I was not making a masterpiece to be admired by all. By the second piece, I was relaxed and knew this was the beginning of a new chapter.

What do you love most about Celebration?
The variety of what people are hooking. Though I travel more for rug hooking than for anything else, in Celebration I get to see this gathering of fabulous rugs and enjoy every bit of the story behind each rug.
Table of Contents
YOUR RECENTLY VIEWED ARTICLES
Free tutorials, expert tips, exclusive partner offers, and more straight to your inbox!