Fumiyo Hachisuka: Class of 2018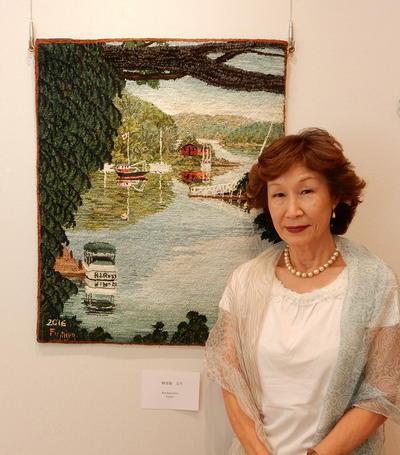 Name: Fumiyo Hachisuka

Location: Tokyo, Japan

Tell us a bit about yourself. What are some of your interests and hobbies?
I graduated from the Seikei University (the department of English language and literature). (Prime Minister Shinzo Abe graduated too--the different department, though.) My major was Shakespeare.

I learned rug hooking in Canada for 4 years. I came back to Japan in 1983 and moved to my mother town Tokyo in 1985. Then I showed my rugs in the small lobby of the bank near my living place. And some asked me to teach rug hooking, so I started teaching it in Tokyo in 1985.

I tried to hold the exhibition once in a year. But it was not possible for the first several years. And there was a big earthquake in 2011 when I could not use the gallery.
"Never give up," I thought many times.

In 2017, I could hold the 27th exhibiiton. And in 2018 I am going to hold the 28th Rug Hooking Exhibition at Gallery K in Kichijoji Diichi Hotel from October 25 to 30. Rug hooking is my life's work.

I learned Sumi Painting and Japanese Caligraphy to brush up my art sense. Now I am teaching how to paint, too.

It is good to be able to use the sketch as the pattern.

How did you get introduced to rug hooking?
I had lived in Toronto, Canada, from 1976 to 1983. My friend found a rug hooking class, and we took lessons from Ms. Fanie Sinclair .

What was your first project?
The flower bell pull that is made 1979.

Is there one rug that stands out as being particularly memorable?
Bamboo. I visited the Hokokuji Temple called "bamboo temple" in Kamakura for the first time after I came back from Canada. The bamboo scenery is amazing, and I really wanted to make the bamboo rug. I dyed many kinds of green and hooked it on the freehand-drawn pattern.

Is there a particular style of rugs that you're most interested in hooking?
I try any kind of style, but I like to hook using #3 Dorr's wool cloth, dyeing by myself on the rug warp with the old clothes and sweaters and so on.

What's your favorite part about hooking a rug?
I can make as I like. It is a great art. I can use the old clothes and anything. I only need the hook and the round hoop to make any size rug.

What's a piece of advice you'd give to a new rug hooker?
At first, you should hook evenly using the #3 strips on the rug warp or linen. Feel free to make an original pattern, using your colors. Keep on going at least for ten years.

What do you love most about Celebration?
It is a wonderful idea to encourage the rug hookers to make their own rugs and show them.
Table of Contents
YOUR RECENTLY VIEWED ARTICLES
Free tutorials, expert tips, exclusive partner offers, and more straight to your inbox!