Steampunk Reverie
By:
Donna Hrkman, Celebration Hall of Fame 2018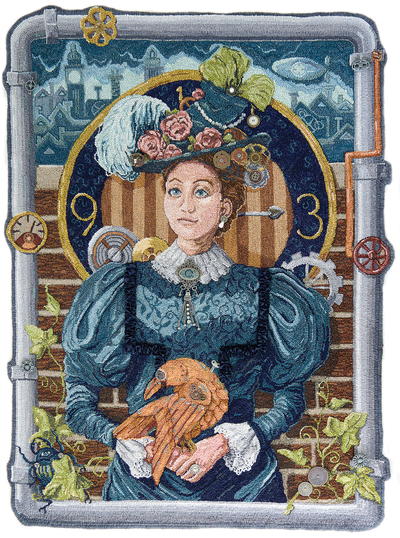 Dimensions: 33" x 43"
Materials: #3- to 5-cut hand-dyed wool on cotton linen and metal embellishments attached with sewing and quilting thread, coated wire, and metal brads (no glue)
Designed and hooked by Donna Hrkman, Dayton, Ohio, 2014. Photo by Dan Hrkman.
Featured in: Celebration XXV

"I fell in love with Steampunk art via scrapbooking and had to play with the theme in rug design. I drew up a Victorian lady in all her finery, embellished head to toe with gadgets, gears, and clockworks. The color scheme is cool, and the textures include shiny satins and bricks, brass, silver, and gold tones, and a sassy apple green for color balance. I had a blast designing and hooking this rug, as it encompasses many Steampunk motifs and elements.

The background went from a foggy neutral to a much busier Victorian London cityscape and an ivy-covered brick wall, with a big clock behind the heroine of the rug. The pipes make a perfect Steampunk frame. It all ties together as a Celebration of a theme that is always fun to work with."
- Donna Hrkman, Celebration Hall of Fame 2018
YOUR RECENTLY VIEWED ARTICLES
Free tutorials, expert tips, exclusive partner offers, and more straight to your inbox!