Janice Lee: Class of 2023
Updated June 27, 2023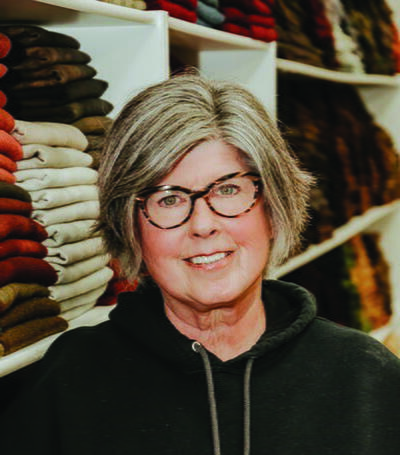 Name: Janice Lee
Location: Valley NE

Tell us a bit about yourself. What are some of your interests and hobbies?
I have owned a rug hooking store for 22 years and have sold antiques for the last 42 years. I sing and act and taught voice and directed a nonprofit musical theatre for 40 years. I have a degree in animal science. As a lifelong "horse girl," I showed horses in both Western and English and will always own a horse. My son is a rancher/horse trainer, and my daughter is a voice/acting teacher and has her own nonprofit children's theatre.
I play the piano, French horn, and a little oboe. In recent years, I have taken up dog training and trialing and titled my Standard Poodle, Blue and Lagotto Romagnolo, Jelly, in obedience, rally, scent work, tricks, and barn hunt. I have six grandchildren who all love horses, dogs, music, or theatre. I have yet to teach one to rug hook, but I am working on that! I should mention that I am a McGown certified rug hooking teacher, also.

How did you get introduced to rug hooking?
A friend wanted to learn and needed three people for her group lesson. I did not want to learn to rug hook but talked my mother into going along with us. I fell in love with rug hooking with the first loop.

What was your first project?
A heart and hand chair pad.

Is there one rug that stands out as being particularly memorable?
I have made over 400 rugs and hooked projects. The most memorable are the most difficult ones. My series of cowboy rugs all had difficult elements, but my rug SPLASH, showing a cowboy riding his horse through water, was particularly memorable. Diane Stoffel is a good friend and mentor and I remember her saying to tackle only a quarter size area at a time or it can become overwhelming.

Is there a particular style of rugs that you're most interested in hooking?
I started out making primitive rugs and teach a class on making heirloom-style rugs. I love making a rug that looks 100 years old. However, I have become a fan of fine shading and love the detail I can get using #3 and #4, even #2 cuts.

What's your favorite part about hooking a rug?
I love that rug hooking can be relaxing and "fill in the blank" if I want it to be or it can be a brain tease and make me think about every loop I put in . . . depending on the style of rug I am making.

What's a piece of advice you'd give to a new rug hooker?
Just hook . . . a little every day. It won't get done sitting in the closet. Leave it out and hook a bit every day and you will get better quickly. Sometimes it is important to just finish and not worry about perfection.

What do you love most about Celebration?
I love going through the magazine over and over again with friends. We pick our favorites, ooh and ahh over the difficulty of some, the cleverness of others. I keep them handy in my store to show people the different kind of projects that can be achieved by rug hooking.

Table of Contents
In the Sticks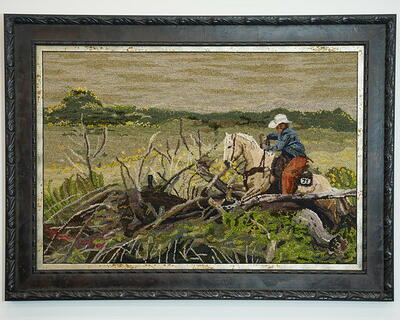 In the Sticks, 32" x 22", #3-, 4-, and 5-cut wool on linen. Designed and hooked by Janice Lee, Valley, Nebraska, 2020.

I have hooked many horses and cowboys and always think I have a great advantage because I know how all the gear hooks up.
 
SPLASH!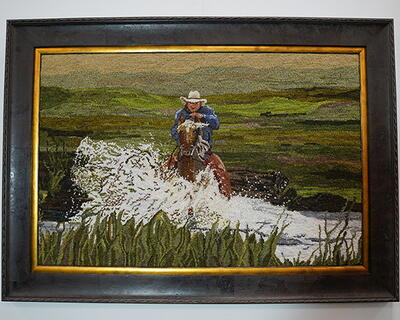 SPLASH!, 32" x 21 ½", #3-, 4-, and 5-cut hand-dyed wool on linen. Designed and hooked by Janice Lee, Valley, Nebraska, 2020.
 
Branding Time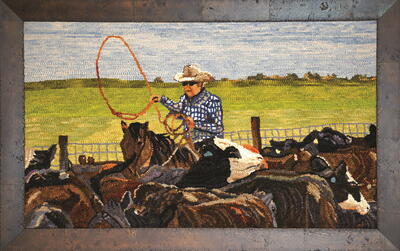 Branding Time, 32" x 21, #3-, 4-, and 5-cut hand-dyed wool on linen. Designed and hooked by Janice Lee, Valley, Nebraska, 2019.
 
YOUR RECENTLY VIEWED ARTICLES
Free tutorials, expert tips, exclusive partner offers, and more straight to your inbox!