Trish Johnson: Class of 2018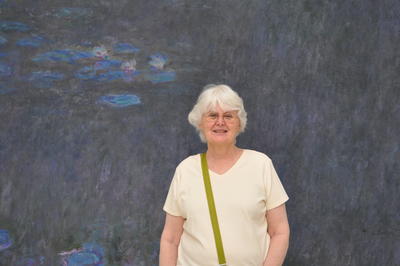 Name: Trish Johnson

Location: Toronto, Ontario, Canada

Tell us a bit about yourself. What are some of your interests and hobbies?
I'm married. I have 4 grown-up children, 3 grandchildren, and a cat. I'm interested in family history. I hook rugs, make small art quilts, take photographs, and read novels.

How did you get introduced to rug hooking?
In 1972, I was a University student, and I spent my spring break helping my Aunt Eliza hook the sky on a rug depicting a sailing ship.

What was your first project?
My first project was a kit from Rittermere Hurst Field. The rug was pink roses and green leaves on an antique black background. It was a #8 cut and oval shaped.

Is there one rug that stands out as being particularly memorable?
I like to hook projects that are dear to my heart. The rug of my mother is the one I hope is particularly memorable. My mother meant the world to me. I like my mother's description of my father forgetting to talk and letting the TV do it for him. A lot of women can identify with this.

Is there a particular style of rugs that you're most interested in hooking?
I mostly hook landscapes. I always include a touch of civilization. I like the simple construction of homes, barns, churches, and lighthouses. Lately I have been hooking more urban landscapes.

What's your favorite part about hooking a rug?
I love the warm and fuzzy feeling of the wool, and I like seeing how different colours play off of each other.

What's a piece of advice you'd give to a new rug hooker?
The advice I would give a new rug hooker is not to pull out their work. Wait until you're finished to tweak things.

What do you love most about Celebration?
I like seeing all those wonderful rugs. I've learned a lot from seeing how others have hooked rugs.
YOUR RECENTLY VIEWED ARTICLES
Free tutorials, expert tips, exclusive partner offers, and more straight to your inbox!