Nancy Thun: Class of 2023
Updated June 30, 2023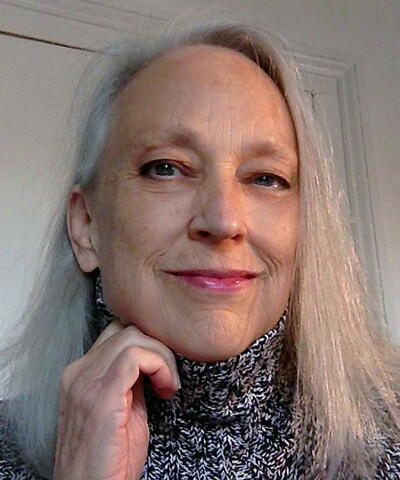 Name: Nancy Thun  
Location: Hoboken, New Jersey

Tell us a bit about yourself. What are some of your interests and hobbies?
I am a theater set designer and primarily work with London designers to help bring their designs to Broadway and then on to U.S. tours and international engagements. I once packed up my hooking to take along for a cruise ship job!

How did you get introduced to rug hooking?
In 2007, I saw a demonstration of rug hooking at the New York State Fair and was fascinated. A couple of years later, I encountered someone using yarn, and I was hooked!

What was your first project?
After encountering the yarn hooker while camping in Acadia National Park, I went back to my site and took pictures of the trees circling above me. My first design, Acadia, was developed from these pictures. I taught myself how to hook from the internet, bought yarn at the New York Sheep and Wool Festival, and hooked the 36"-wide half-round rug on a 9" embroidery hoop! It has been nonstop ever since.

Is there one rug that stands out as being particularly memorable?
Mirrormirror—I was overwhelmed by the mirror aspect of the piece. I knew from the picture that the mirroring was not exact; that there were differences between the halves. I decided not to focus on trees but hook only pattern and color. When I first laid out the rug, I was stunned by the reflection achieved. After that I let go and hooked. The rug would look great. I now wait for that a-ha moment with each rug.

Is there a particular style of rugs that you're most interested in hooking?
I always hook with yarn using the loops as individual dots of color similar to the pointillist style of painting. Generally, I hook landscapes which have always been my passion but, ultimately, I hook images that tell a story.

What's your favorite part about hooking a rug?
Working out the design and colors is the most immediately engaging but I also look forward to the days I take the rug off the frame, hang it, and step back for a good look. I learn so much by doing that.

What's a piece of advice you'd give to a new rug hooker?
Really look at what it is you are working from and what it is you are hooking. Don't just assume "tree," "eye," "dog." Everyone sees the world differently. If you hook what you see, your work will be uniquely yours.

What do you love most about Celebration?
I like showing my work to as many people as I can, and I like seeing what others are doing. It helps me stay active both in my hooking and thinking.
 
Table of Contents
Grand Canyon Yellowstone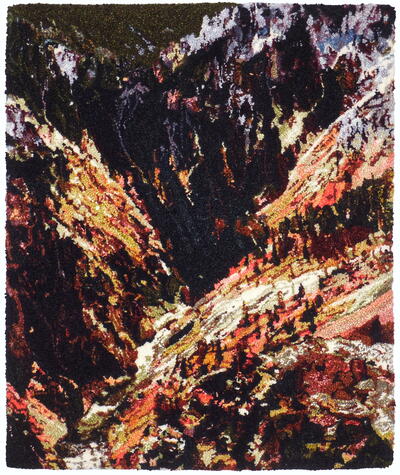 Grand Canyon Yellowstone, 32" x 38", hand-dyed 100% wool yarn on cotton rug warp.
Designed and hooked by Nancy Thun, Hoboken, New Jersey, 2022.

As with all of my pieces, this was developed from a photo I took on one of my many journeys. This time to the Grand Canyon in Yellowstone. . . . I was stunned by the colors in the picture and although I do computer photo enhancement on the images I hook, this color is for real.
 
Sand Sea Boardwalk & Me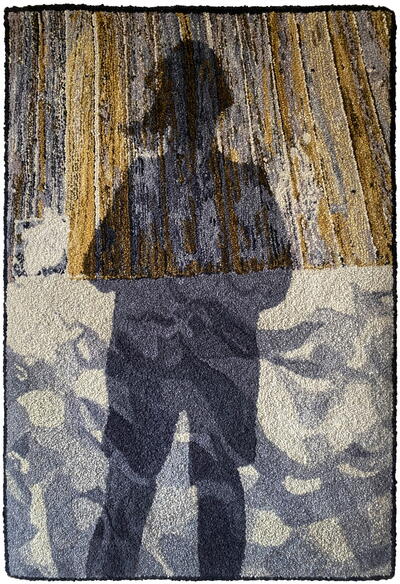 Sand Sea Boardwalk & Me, 34" x 39", hand-dyed wool yarn on rug warp. Designed and hooked by Nancy Thun, Hoboken, New Jersey, 2021.
 
Uluru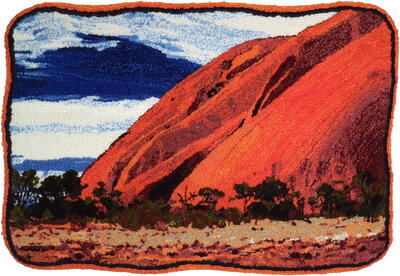 Uluru, 41" x 28", hand-dyed bulky wool yarn on rug warp. Designed and hooked by Nancy Thun, Hoboken, New Jersey, 2019.
 
YOUR RECENTLY VIEWED ARTICLES
Free tutorials, expert tips, exclusive partner offers, and more straight to your inbox!